Speakers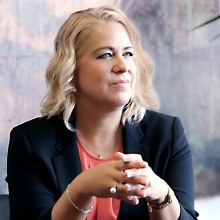 Arin Saydam
Vice President of the Communication Consultancies Association of Turkey
Arın Saydam graduated from the Department of Sociology in Boğaziçi University. She has a MA Degree from Istanbul University's Department of Public Relations and Advertising. Her book made up of the details of her MA thesis "How Many Zeros Can You Remove from Your Corporate Reputation?" was published by Rota Publishing in 2004.
Arın Saydam gave Media Measurements and Research lectures for fourth year students in Istanbul University, between 2008-2009. Mrs. Saydam also tutored Quality Standards in Public Relations and Corporation Publishing in London School of Public Relations and IDA.
Being a member of Public Relations Foundation of Turkey (TÜHİD), Arın Saydam played a crucial role in receiving the first ISO 9001 document for the fields of communication consultancy and corporate printing with her work towards standardization the processes.
She acted as the Vice Chairwoman of the Kesişim Publishing and Design Services and the Chairwoman of the Bersay Communications Institute.
In her PhD studies in the Marmara University, Public Relations and Advertising programme, Arın Saydam published "Public Relations Through the Window of the Industry" in 2008 along with Prof. Dr. Filiz Balta Peltekoğlu.
In May 2014, Saydam completed the PhD at Marmara University, Institute of Social Sciences, Public Relations and Publicity. Her book 'Deep Blue of Communication: Sustainability' based on her PhD thesis 'The effects of Sustainable Communication to the Corporate Sustainability' has recently been published for students and industry professionals' benefit.
Dr. Arın Saydam is currently the Vice President of İDA (Communication Consultancies Association of Turkey).
Dr. Saydam is married and a mother of one.
Vice President of the Communication Consultancies Association of Turkey