World Communication Forum Davos 2011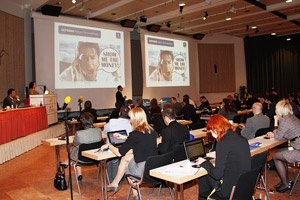 World Forum "Communication on Top" 2011 focused on Reputation Management, eventually proving to be well worth visiting, highly beneficial and really enjoyable itself!
The 2nd edition of the annual event got qualified by many as reaching "above all expectations" - thanks to the combined efforts and strenuous work of each member of the Top Com team, the valuable contribution of the Forum Committee, and all partners and participants' active support!
Forum 2011 summoned communication professionals from over 20 countries on 5 continents (Europe, Africa, Asia, North America, and for the first time - from Latin America) - Russia, Bulgaria, Switzerland, Portugal, Germany, Belgium, UK, USA, UAE, Peru, Mexico, Oman, Saudi Arabia, Lithuania, Kazakhstan, Ukraine, Belarus, France, Italy, and Canada.
Davos Congress Centre again turned into a platform for open dialogue, uniting different cultures, religions, social networks, and various professional areas. Successful communication practices and best strategies were shared by global leaders in various business sectors (EDELMAN, DELL, CERN, E.ON, ENEL, VTB-24, Van Marcke, i-JET), and high-rank institutions - EU Council, the Dubai Government, and the Government of Germany.
Over 80 professionals from 15 larger or smaller companies, 30 consultancies, and 5 large associations and institutions witnessed the captivating spirit of Davos!
The agenda offered an outstanding debate (moderated by Maxim Behar, CEO of M3 Communications, Bulgaria) between two communication gurus – Paul Holmes (TheHolmesReport.com) and Marshall Sponder (WebMetricsGuru.com), 20 presentations with many practical examples, selected case studies in IR (ENEL, presented by one of the the Executive Directors in its Media Department - Vittorio Alessio) and external communications (EuropArea - presented by the Managing Director Louis Schorlemer), a couple of general overviews (one on WEF - presented by Rui Martins, Corporate Communication and Public Affairs Director at Dianova, Portugal), and a vast number of Q&A panel sessions with thought-provoking comments and business-oriented conclusions.
A memorable "blind" discussion (moderated by Jolyon Kimble, Associate Director at APCO Worldwide, Belgium) focused on the role of new media in the current situation in Egypt and the Middle East. Two experts from this region shared their visions of the upcoming changes towards democracy: Nicholas Labouschagne, strategic adviser for the Dubai Government, and Sultan Al Bazie, CEO of Attariq Communications - Saudi Arabia, Chair of IPRA Gulf Chapter.
Among the top-rated presentations were those of Gary Grates , President and Managing Director of EDELMAN Change & Employee, James Gillies, Head of Communications at CERN – the European Organization for Nuclear Research, Philippe Borremans, Chief Social Media Officer at Van Marcke Group, Kerry Bridge, Global Digital Communications Manager at DELL Public Sector, Mohamed Al Ayed, President and CEO of TRACCS, Ansgar Thiessen, Board Member at the Swiss Association for Crisis Communication, Sultan Al Bazie, CEO of Attariq Communications - Saudi Arabia, Chair of IPRA Gulf Chapter, and Marshall Sponder, WebMetricsGuru.com. See all presentations at: http://www.forumdavos.com/presentations/2011 (please copy and paste the link directly in a new browser slot).
Here are some interesting thoughts, expressed by several of the Forum speakers:
"Image is about what we project. Reputation is about what we do. Creation of context often becomes more significant than creation of content." - Gary Grates, EDELMAN Change & Employee;
"Social media is breaking down barriers between business functions and focuses on speed. We are living in an environment where if you delay your message for 3 hours, you just don't exist!" - Paul Holmes, The Holmes Report;
"Twitter, Facebook or Wikipedia, and their analogies used properly within an enterprise, can certainly reduce costs, decrease time spent for the production cycle, and improve work collaboration." - Philippe Borremans, Van Marcke Group;
"When your dog's at home having nothing to eat, it will ramshackle your house for a piece of food. The journalists are much the same: having no information they will still find something and you might not like this something at all." - Dr. Daniel Höltgen, the Council of Europe;
"The future PR and the future business, in general, will be much more dependent on the web metrics and the analytical tools." - Marshall Sponder, WebMetricsGuru.com;
"Crisis Communications is like playing jazz: you need a lot of improvisations." - Ansgar Thiessen, Swiss Association for Crisis Communications;
"For teenagers the border between real and virtual is so blurred that a real car equals the one bought online." - Alexey Kostarev, i-Jet Media.
This year the Forum also hosted the inauguration of its C4F awards ceremony and Gala Dinner. The award is to be given annually to outstanding communication professionals with major influence on the improvement of communications and effective contribution to the new trends in the development of the communication industry. Congratulations to the worthy winners selected by the Forum Committee within the 4 award categories!
Liz Strauss (blogger at Successful Blog, USA) won "Titan web.2.0" for establishing successful long-lasting relationships in a changeable world;
Diane McEachern (founder of Big Green Purse, USA) won "Image of the Future" for designing an essential part of the future woman's image;
Svetlana Mironyuk (Editor in Chief at RIA Novosti, Russia) won "Media of the Future" for reviving an old Soviet news agency and transforming it into an information leader in contemporary Russia;
"Relations of the Future" was awarded to James Gillies (Head of Communication at CERN), for providing best communication strategy for the promotion of the Large Hadron Collider: www.forumdavos.com/awards!
The internet audience had the opportunity to watch this all online via Live-stream!
Our sponsors, hosts, partners, and contributors (partners/2011) supported the event and helped us spreading it worldwide.
Special gratitude to our Platinum Sponsor from Russia - IES holding, who helped us realize the event!
Special thanks also to the Forum Committee, who continuously advised on the potential content, the agenda, the recommendations for speakers, and helped with the popularization of the initiative!
We thank you all once again for the time, the efforts and the valuable contribution, without which the forum could hardly achieve its goal!
All photos, videos, interviews will be available on the forum website.
Here are a few of the many thanks that we received:
By Speakers:
"I really appreciated exchanging experiences and thoughts with PR professionals from across the globe and I am looking forward to hearing from you guys, if any other similar opportunity crops up. Thank you for your help and assistance during my participation."
~ Vittorio Alessio, Italy
"Many thanks for the organisation! I'd love to come again next year!"
~ Ansgar Thiessen, Switzerland
"Thank you very much for the opportunity to participate! I found the event and speakers to be very professional and world-class! I sincerely hope my presentation met the attendees' expectations. I would be honoured to be considered for the next year."
~ Gary Grates, USA
"Overall, it worked out great. I really enjoyed meeting you, finally, after almost a year of back and forth messages and – think of me for next year! Also, I would like to stay in touch, besides On the Top."
~ Marshall Sponder, USA
"I did enjoy the Forum very much and I have taken full advantage of all contacts and contents! Many thanks for your great work!"
~ Louis de Schorlemer, Belgium
"A very interesting event, though I did cop out on using my tiny bit of Russian."
~ Matthew Bostrom, UK
"It was a pleasure to be with you in Davos, and an honour to be given an award. I very much enjoyed the talks, and the variety of speakers you had."
~ James Gillies, Switzerland
By Committee:
"Everything was simply fine! We should do more and better PR in the German speaking area. It was a great pleasure to be in Davos. Fantastic speeches and network!"
~ Roland Binz, Switzerland
"It was a truly fantastic experience! Very well run, stronger program, lots of delegate engagement, great time management! The debate was a highlight!"
~ Mohamed Al Ayed, UAE
By Attendees:
"I found it truly interesting and engaging, particularly with a 25 year experience in advertising. It was above all my expectations."
~ Susana de Carvalho, Portugal
"Thank you and the whole team for all your assistance at all times."
~ Ericka Cervantes, Mexico
"The meeting was great, I really enjoyed it. Such congresses are a great opportunity to share knowledge and make contacts: we must be up to date with global brands. The content was very rich! I really enjoyed the presentations on Metrics and ROI!"
~ Sylvia Lorena Carreño Diaz, Mexico
"Thank you very much for the Forum as an excellent platform for meeting new people and networking! Everything was great in terms of logistics, timing, catering."
~ Gulnara Bikkulova, Russia
"Thank you for the perfect organization! It was a pleasure to socialize with the participants and benefit from such a useful amount of new information! The event provoked not only professional interest and thought, but also new acquaintances and business contacts. I had never visited events like this before – with its exceptional spirit of openness, unity, friendliness, and sincerity. Everything was On Top!"
~ Elizaveta Panfilova, Russia
"I was really pleased to take part in such a remarkable conference: the dynamic and truly loaded atmosphere provoked a lot of interaction and exchange of experience. There were so many interesting presentations and speeches: I personally learned a lot – it inspired me with new ideas and provided tools for moving forward."
~ Galina Savchenko, Russia
"What did I like best? In short: all, there were no drawbacks. Everything was well-arranged and performed with intelligence: Davos-like, as it should be!"
~ Olga Bereslavskaya, Russia
We welcome everyone to join us again in February 2012
For more details: contact us
Valentina Atanasova, partners@forumdavos.com