WCF-Global 2018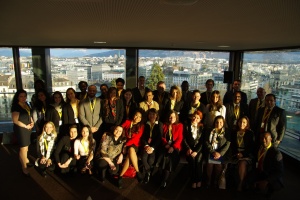 WCF-Global's Ninth Annual Edition took place in Geneva, on 21-22 March 2018, bringing together a large number of participants who represented 25 countries worldwide!
The largest delegations were from the USA and Switzerland, followed by Russia, Bulgaria, Turkey, India, Brazil, UK, Hungary, Egypt, Germany, France, Belgium, Malaysia, South Africa, China, Croatia, Denmark, Sweden, Kazakhstan, Serbia, and – for the first time, there were also experts from – Monaco, Sri Lanka, UAE and the Philippines!
Gallery WCF | Presentations 2018 | Video
FB Album Day 1 | FB Album Day 2 | FB Album Gala

Official Partners of the event were the Turkey Promotion Group (TPG) and the European Business School in Geneva, as well as over ten exclusive and media partner-agencies and organizations who promoted the event in their own countries:
The event was covered in real-time, via its Twitter Hashtag #WCFDavos, gaining the global resonating effect of over a million impressions:
The first forum day featured hot content in 5 panels and 3 keynotes, while the second one brought a lot of joy for the happy winners of the prestigious global annual C4F Awards, presenting also to the forum audience 4 remarkable corporate showcases and 3 outstanding talks shared by the winners and some of the short-listed finalists of the awards.
Highlights and key insight from 21 March:
The day kicked off with à great panel titled "WCF-agenda 2049", featuring three remarkable speakers who shared key insight on the inter-relation between Communication, Health, and Gaming as a tool for social change, offering the following major conclusions:
• "Research and access to relevant and up-to-date health information are the two crucial resources for identifying critical gaps and guiding evidence-based strategies for disseminating effective advice on prevention and health-treatment to all at-risk populations, in order to promote global health." - revealed Gary Kreps, Ph.D., FAAHB, Distinguished Professor at the Department of Communication and Director of the Center for Health & Risk Communication at George Mason University (USA)
• "Serious games create spaces of mitigated risk for social interactions or the intentional communication between two or more individuals that in turn make the unfamiliar and uncertain plausible, believable and tangible which leads to an embodied understanding of complex domains that would otherwise be inaccessible." - advised Jessica Muhamad, Ph.D., Assistant Professor of Communication, School of Communication, Florida State University (USA)
• "Trust and Transparency have emerged as the key components and most important variables in emergency risk communication. Trust-creating level: expertise, good character, identification, goodwill. Message-based communications without proper analysis is dangerous. Where there is risk involved, failure of communication leads to death." - stated Gaya Gamhewage, representative of the World Health Organisation – Infectious Hazard Management & Risk Communications (Switzerland)
The next panel featured WCF's hosting partner - EU Business School, offering a hyper-interactive discussion on the mission, requirements and values of the new generations of young leaders - open mind, flexibility, ability to adapt to the world, vision and will to shape the future, inspiration to others, ability to uplift and support the team, creativity, problem solving, continuous improvements, risk taking, adaptation to change, ability to see and seize the opportunity when it is there, insight on technology and its most reasonable and safe use, and also - solidarity!
The slot featured five impressive students with outstanding rhetoric skills, who demonstrated well-mastered public speaking manner, decision-making, problem-solving and proved that the future of leadership in business and diplomacy belongs to the well-prepared, gifted and self-confident young people! Their advocacy in favour of talent, tolerance and multi-cultured nationals was later-on reinforced in the keynote of Dr. Jon-Hans Coetzer, Chief Academic Officer, EU Business School Group in Geneva, whose message echoed in the conference hall: "None of your employees woks just for a salary - engage them creatively! We should shake off our outdated ability to judge, jaw or criticise... and try to embrace the future!"
The second keynote for the day - by Ashay Sahasrabuddhe, Ph.D. research scholar at the University of Mumbai and Founder & CEO of Kintel Incomm Pvt Ltd. in India - revealed that Media Accessibility & Inclusive Communication has power to change lives of millions of persons with disabilities in this world. Communication has potential to create inclusive societies where disabled people can contributors to society and become active stakeholders in human development. However, accessibility is not just about implementation, but audience analysis, utilisation of resources and usefulness...
The highlight of the day was the panel supported by WCF's key partner - Turkey Promotion Group, focused on the Power of Country communications - it featured several approaches to country-branding, presented by high-level global experts:
• Country reputation and online branding are intrinsically linked today.
• "Culture, as the true brand of a nation, lies at the core of UAE's national identity", shared Her Excellency, Noura bint Mohammed Al Kaabi, Minister of Culture and Knowledge Development of the UAE.
• "Global reputation = national brand. Be different, be reachable and predictable, offer high-quality products, be trendy in terms of technology, secure unforgettable experiences and fame will follow. Today, Turkey is much more than its food and the Turkish kebab - come visit and see for yourself!" - invited the audience Metehan Demir, Journalist, Turkey Promotion Group Communication Consultant.
• "A country's reputation precedes and influences its companies' reputation, but a country does not have ONE reputation only. China wants to be welcomed overseas, yet it is much less welcoming at home, for example. Reputation lies in the visitor's perception of reality and is based on 3 key factors: environment, economy, governance. On the other hand, the strongest impact on country reputation is made by its companies' corporate reputation." - advised Diego Gilardoni, Global Business and Communication Consultant, and Author from Switzerlnad.
• Yogesh Joshi, President of the Association for Business Communicators in India, presented his country in a two-minute video focused on the historical presentation of India's top contributions to the world, thus emphasising the crucial importance of knowledge, inventions, science, discoveries, latest innovations and traditional crafts and masterpieces, which also form a major part of a country's brand, image and reputation abroad.
A breath of fresh air,  advocating non-conventionality and high spirit was brought by the next agenda-slot focused on Ethics in PR. "In USA we have a serious issue with #EthicsInPR - partly due to standard stereotypes or our typical mindset. Remember: we, as PR-s, DON'T have to work for the 'Devil', actually!" - stated with a smile Daniel Hill, CEO of Hill Impact in the USA. :)
The next panel focused on the debate: Is PR dead or not?
• "PR is not dying, it's changing into content & reputation management. We should do Ethical Impact Branding and not forget that today, each person can be a media - by simply being active on Twitter or Facebook." - said Gabor Hegyi, Founding Managing Director of Capital Communications (Hungary)

• "PR today is about analysing the audiences' behaviour. Above anything else - be Transparent. Audiences have learned to choose what they want to hear or see - they are in the driver's seat! Hence, PR today must: Do innovative campaigns, Cluster stakeholders according to behaviour and trends, Stay up to date, be Real & Transparent! What is common among PR practitioners is that we fight, for a better world - we are all warriors. Either fight the change and continue defending your values, or go with the flow and move faster - both ways serve to make PR stronger than ever!" - shared Halim Abou Seif from RADA Research & PR (Egypt,) and added: "We are here, at #WCFGeneva, for a 3rd year, cause we have become a Family, where each one learns something new, valuable and useful - let's keep that!"
The final keynote revealed insight on presentation skills of non-native English speakers: "Confidence, Cultural Comfort & Competence!" - said Deborah Grayson Riegel, Boda Group's Director of Learning and author of "Tips of the Tongue" (USA)
The second day of the WCF-Global featured amazing show-cases by winners and short-listed finalists of the prestigious C4F awards, as well as two keynote talks: one of the talks shared valuable insight on the effects of Artificial Intelligence on content marketing, and the other revealed valuable advice on how to help the developing countries improve their national-risk-and-crisis management.
In the eye of the camera - Winners of C4F Awards'18 - announced on the C4F Awards website:


The forum was closed with a traditional group photo of all participants - eyes gleaming, against the background of the impressive "White Mountain" - Mont Blanc:


* The WCF-Geneva'2018 summary was prepared by Valentina Atanasova, Project Manager of the WCF-Global forum.