World Communication Forum Davos 2015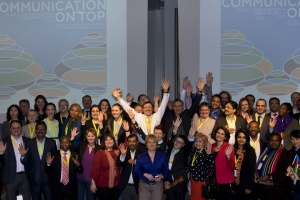 Global Communications Agenda 2015 shaped by 34 countries!
Gallery | Presentations | Video | Prints
Facebook albums: Day 1 | Day 2 | Black & White | C4F Awards

On March 10-11, the sixth edition of the World Forum "Communication on Top" traditionally welcomed delegates from 5 continents at the Davos Congress Centre in Switzerland. Leading representatives from 34 countries shaped the Global Communications Agenda 2015.
Speakers: 48
Moderators: 14
800 tweets | 6 press-releases | 188 online publications | 10 languages | 34 countries represented | 250 000 professionals reached
Everyone took back home a real treasure of wonderful memories, relationships, valuable insight and potential business opportunities. The outstanding atmosphere was summarized in several definitions by leading professionals:
#WCFDavos is the Woodstock of Communications! ~ Gianni Catalfamo (Italy)
#WCFDavos is definitely the Forum-Not-To-Miss! ~ Solly Moeng (South Africa)
#WCFDavos is terrific: brings an important new dimension to our global industry! ~ Colin Byrne (UK)
#WCFDavos is a wide variety of high caliber speakers! ~ Rana Nejem (Jordan)
#WCFDavos truly signifies the boundaryless nature of the world! ~ Tanuja Kehar (India)
#WCFDavos is precisely what WE DO as professionals - Communnovation! ~ Rich Kylberg (USA)
Here is how some of the moderators and speakers summarised the event:
What is #WCFDavos? ~ by @giannicatalfamo
15-sec video round-up of #WCFDavos ~ by @stuartbruce
A memo from Davos ~ by @karaalaimo
Storytelling at WCFDavos ~ by @evasnijders
Official partners of the summit were the Russian Venture Company (RVC), MOL Group (Hungary), the Institute for Science & Innovation Communication - INSCICO (Germany) and the association for city branding "IZHEVSK - a smart city with a soul" (Russia).
#WCFDavos expanded considerably, accepting in the family remarkable experts from 11 new countries: Armenia, Azerbaijan, China, Djibouti, Gambia, Egypt, Jordan, Liechtenstein, Morocco, Norway, Slovakia and South Africa.
The largest delegation was from India, with almost 20 participants, 5 of which - students in communications.
The list of communications industries of countries represented so far in the global #WCFDavos community already counts 55!
The event was covered by a great number of supporting exclusive partner-agencies from 20 countries and 13 professional associations:
The #WCFDavos content in 2015 focused on priorities and challenges of the global communication agenda, government communications, public diplomacy, communications and leadership, cross-cultural and global communications, and innovative education.
Mustapha Khalfi, Minister of Communications and Spokesperson of the government of Morocco, Faith Muthambi, Minister of Communications of South Africa, Sheriff Bojang, Minister of Information & Communication of Gambia, Hassan Falha, General Manager of the Ministry of Information of Lebanon, as well as official representatives of the Foreign Ministries of Djibouti, Kazakhstan, Hungary, Spain, the Czech Republic and the Slovak Republic, attended #WCFDavos 2015.
#WCFDavos welcomed the heads of 3 large professional associations: CIPRA (China), ARADO (Middle East and MENA), and ABCI (India)
Consultancies were represented by 5 major players: Weber Shandwick (UK and EMEA), Blufocus (China), Communications Korea (South Korea), CROS (Russia), Pleon Talan (Ukraine)
The corporate business was represented by 7 large / global companies: Arrow Electronics (USA), ThyssenKrupp Elevator AG (Germany), Vasturaviraj Group (India), SAP (Germany), Leroy Merlin (Russia), Borsa Istanbul (Turkey), and Nokia Networks (India)
Educational institutions featured at the event were: INSCICO - Institute for Science & Innovation Communication (Germany), Mumbai University (India), Hofstra University (USA), SDA Bocconi School of management, Università Bocconi (Italy), National Research University: Higher School of Economics (Russia)
ISCAE, Ghent University (Belgium), WeSchool in Mumbai (India), M3 Communications College (Bulgaria)
Online media coverage included 6 press releases disseminated by official partner-associations and media partners of the summit. PR Noticias from Spain delegated two journalists, who covered the event via interviews and video-records. Representatives of Facemark from Azerbaijan, the National Union of the Moroccan Press, and the Editor of "Dainik Sandhya Prakash" form India also attended the summit.
Numerous tweets, re-tweets and photo-shadings registered a huge interest on the part of the global professional community, multiplying the impact of the event and reflecting the growing importance of today's communications industry as a driver of progressive changes for the future of humanity as a whole.
Social media coverage in real time was handled on the hashtag #WCFDavos and the Fb event, while general coverage, reports and latest news about future events and projects are still being shared on the official Facebook page.
-------------------------------------------------------
A few of the many thank-notes from speakers, partners and attendees:
"My heartfelt gratitude for having concluded WCFDavos|CERN session successfully, it was indeed thoughtfully planned and executed with a lot of insights!"
Jaydip Chowdhury, Head of Corporate Communications & Advocacy, Bilcare Limited (India)
"I truly appreciated my stay at your congress - it was a very interesting experience for me!"
Dominic Köfner, Vice President Corporate Communications, MOL Group (Hungary)
"Superb edition of the WCF - the best ever: 30-odd nations, 5 continents, amazing! I especially liked the idea of Dr. Salunkhe of taking students to Davos. We all saw how great Ashu's stepping out was in my panel, but I spoke to a couple of others and they were equally smart and witty! I would encourage us all to have more students next year, despite the challenges. Onwards and upwards!"
Gianni Catalfamo, WCFDavos Committee co-Chair and Founder of cc:catalfamo (Italy)
"You guys put on a remarkable show! Thank you for this and for the wonderful program in Davos - you really did an outstanding job - tremendously good work!"
Rich Kylberg, Vice President Corporate Communications & Global Marketing, Arrow Electronics (USA)
"Thank you for your hard work in organizing and hosting the WCF! As the statistics confirm, this was a diverse and global forum attended by significant representatives from many countries. We appreciate the opportunity to work with you and wish you continued success in the future!"
Mary McCarthy, Managing Partner, Westmeath Global Communications (USA)
"Congratulations on hosting such an impressive World Communication Forum, and thank you for including me - it was a privilege to be a part of it. I look forward to staying in touch and would gladly welcome the opportunity to speak at future events. All the very best from New York!"
Kara Alaimo, Ph.D., Assistant Professor in the Department of Journalism, Media Studies and Public Relations at the Lawrence Herbert School of Communication, Hofstra University (USA)
"Thank you a lot for a great event! I really enjoyed everything - topics, participants and the WCFDavos professional community!"
Tatevik Pirumyan, Executive director, Armenian Public Relations Association (Armenia)
"It was a great pleasure being given the opportunity to participate in the Sixth World Communication Forum in Davos. I would like to thank you for your efforts, hard work and assistance. It's greatly admired and appreciated. Looking forward to our continued cooperation."
Dr. Hassan Falha, General Manager of the Ministry of Information in Lebanon
"You have done a great job! I take off my hat!"
Solly Moeng, Managing Director of DonValley (South Africa)
"Thank you for the invite. Enjoyed the experience! Wish I could have stayed for more sessions. I think the Forum is terrific and brings an important new dimension to our discussions as a global industry."
Colin Byrne,  CEO of Weber Schandwick for UK & EMEA (UK)
"I would like to thank Valentina, Gianni, Yanina and Guntram for their never ending support to make this panel and #WCF6 a great success. The relationships and bonds we build each year at WCF are not only truly global but also help us to grow mutually in our personal and professional lives. Look forward to see you all next year in Davos!"
Saurabh Uboweja, Founder, CEO & Director, Brand Strategy | Brands of Desire (India)
"Thanks for for inviting me. Our panel had different perspectives but at the core was a uniform message and any such diversity makes the discussions intriguing. WCFDavos signifies the boundaryless nature of the world we live in and it was a pleasure to interact with some of the best minds in Communications globally. My felicitations for creating such a forum and I am more than certain that it will exponentially grow in times to come. I look forward to being connected and meeting everyone again at Davos!"
Tanuja Kehar, Vice President Corporate Communications, Unitech Limited (India)
"It was a pleasure and honor for me to be part of the panel and to participate at this year's forum, during which I met such wonderful professionals and colleagues. Thank you all for the unique opportunity and I look forward to staying in touch and, why not, meeting in person next year again. A special thanks to Valentina and all the wonderful team for organizing such a perfect event! All the best and a très bientôt!"
Jörg Winkelmann, CEO & Founding Partner, Brand & Culture Change Advisor, Ming Advisory (Switzerland)
"Deeply appreciate Valentina's personal contribution for WCF-2015 and making it grand success, certainly my friends from panel added great flavour and also they encouraged for wild card entry of Student representative on panel. My heartfelt compliments for raising the bar in 2015 compared to 2014 - I did share this with Yanina and Yogesh. Let's try to leverage our respective strengths for solving our societal and global challenges."
Prof. Uday Salunkhe, Director at WeSchool, Senate Member at Mumbai University (India)
"Greetings from Amman, Jordan! I really enjoyed the sessions and the discussions and the pleasure of meeting such a wide variety of high caliber speakers from all over the world. Thank you for all your hard work. Wishing you all the very best!"
Rana Nejem, Founding Director of YARNU, The Art of Social Intelligence (Jordan)
"Thank you so much for the great event and your hospitality!"
Roman Vassilenko, Chairman of the Committee for International Information at the Ministry of Foreign Affairs, Republic of Kazakhstan
"Thanks for sending me all those coverage materials. It seems this year the forum was more successful than I had realized, just from seeing reactions on Facebook. It's probably too soon to relax and believe that WCFDavos is now a permanent, indestructible institution that doesn't require constant effort to survive and thrive, but at least the scary phase of creating something out of pure hope and dedication is over. The Forum now has a strong track record and that should fuel future growth in size and importance. So, congratulations to all who were involved, and I look forward to being in touch with you in the future!"
Scott E. Fahlman, Father of the first smiley emoticon in 1982, computer science expert at Carnegie Mellon University (USA), widely recognized as an authority on artificial intelligence and knowledge representation.
See you again next year, on 8-9 March!
#WCFDavos Team
For more details: contact us
Valentina Atanasova, partners@forumdavos.com