World Communication Forum Davos 2010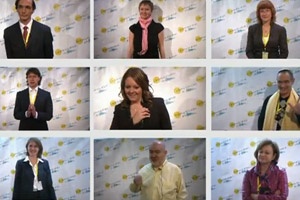 The launching of the first WCF was both useful and enjoyable – thanks to the efforts of the Top Com team and all our participants and partners' kind support, valuable contribution and truly positive attitude!
The Forum brought together people from around 21 countries, 35 larger or smaller companies, and nearly 10 associations and international institutions. Over 65 participants – representatives of different cultures, religions, social groups, and networking – were offered no less than 23 presentations, among which several outstanding speeches, and many thoughtful comments. Guests from Saudi Arabia, USA, Kuwait, Oman, Russia, Poland, Bulgaria, Romania, UK, Portugal, Spain, Lithuania, Croatia, Switzerland, Austria, France, Germany, and Belgium proved that the harmony in diversities is achievable, while the internet audience had the opportunity to watch the forum's web-translation in real time online!
Organizations like Swiss International Air Lines, European Newspaper Publishers' Association, Business School Lausanne, Trans-Arabian Creative Communications, International Federation of Communication Associations, Moscow International Business Association, Mobile Marketing Association and many more supported the idea of the forum and helped the organizers in spreading it worldwide!
We are sure that for every participant there was something new to take and apply directly into their business and that all our guests and supporters look forward to the Second World Forum "Communication on Top" that will take place on February 17th – 18th, 2011, again in Davos!
The 2011 event preparation has already started with the New Committee Board formation – all members are presently announced on our website: www.forumdavos.com/committee/
Here is some more update on this year's event:
Representatives from Hill & Knowlton (Poland), TEO LT AB and Andriuskeviciute, Kuras & Partners (Lithuania), CN Transelectrica SA (Romania), Integrated Energy Systems and BeMobi (Russia), Gateway Educational Communication (Switzerland), CN Transelectrica SA (Romania), Abrakadabra Integrated Communications, Ltd (Croatia), and others followed closely the discussion and made contacts during the enjoyable coffee-breaks, lunches, and the closing dinner party.
Speakers from the European Aviation Safety Agency, Sovereign Strategy, the European Association of Credit Rating Agencies, PR Week UK, Clear Directions LLC, Associação Dianova Portugal and other organizations shared their experience in crisis communications and corporate management.
3 case studies were presented: French Dassault Aviation stressed on measurements, Casio America emphasized on Social media and the way of simplifying it, and Greek GEFYRA gave prominence to the relation between the companies and the environment.
Worldwide celebrities like Cristina Gallach, Garrett Johston, Paul Holmes, Maxim Behar, and Thomas Missong shared their knowledge, observations and insights on different aspects of communications, PR, marketing, rating issues, and their influence, development and future.
The Forum program (www.forumdavos.com/program) included four topical sections and they were:

Social & corporate web communication and media
Political communication
Communications of change
Marketing communication

Communication practitioners from different fields of business and economy offered various topics, now available on the Forum Presentations webpage www.forumdavos.com/presentations.
In the course of the Forum one idea was creeping into everyone's head. Paul Holmes said it aloud:
"We are witnessing the end of Transparency and the emerging age of Authenticity in Public Relations. The choice is: seize the opportunity or perish."
The ready 2010 video materials you can check at our YouTube channel - forumdavpscom.
Join to enjoy!
For more details: contact us
Valentina Atanasova, partners@forumdavos.com