Speakers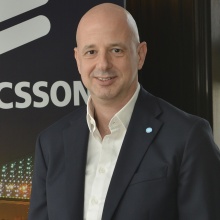 Ziya Erdem
President of Ericsson-Turkey and Vice President of Ericsson-RMEA (Turkey)
Ziya Erdem is the Vice President for the Region Middle East and Africa & President at Ericsson Turkey.
Mr. Erdem was born in 1963. He graduated from U.S. International University at San Diego with a BSc degree in Business Administration in 1984. He then earned his MBA degree from U.S. National University at San Diego in 1986, he also holds a degree in Computer Information Science. Ziya Erdem's career at Ericsson began in 2008 as Vice President for Ericsson Turkey.
He is Ericsson's VP for Region Middle East and Africa Region and President at Ericsson Turkey now. He is in charge of 800+ employees in 4 offices within Turkey, as well as managing government-&-industry and customer relations with full P&L responsibilities.
During his career, Erdem has worked in different senior and executive positions for various companies. Erdem started his career at Istanbul Kuleli Military School, one of the oldest Military Highschools in Turkey, served as a reserved officer in the Military Data Processing Center and lectured military students in Computer Information Science. He continued his professional career in 1988 as Board Member and Vice President of Pabalk Group, his family business. After that he worked as a General Manager in TicaretNet Elektronik Ticaret Uygulamaları A.Ş, the very first Internet Service Provider and  Electronic Commerce platform provider in Turkey, between 1994 – 1999. In 2000, he started working as the COO at Turk Nokta Net, which  was a Sabancı Holding subsidiary and was one of the leading Internet Service Providers and Consumer Portals in Turkey. Ziya Erdem had been appointed as the CEO at Turk Nokta Net between 2001 and 2003. He then worked as the COO at Sabancı Telekomünikasyon Hizm. A.Ş. taking an active role in Turk Nokta Net's merger with Sabanci Telekom right after the liberalization fo the Telecoms Industry in Turkey and he left the company in 2004. He became the CEO of a newly established startup telecoms company Interkom Telekomünikasyon Hizm. A.Ş. and served there between 2004 and 2005. In 2005-2008 Mr. Erdem worked as a senior Telecoms consultant at CETEL Çalık Enerji Telekomünikasyon Hizmetleri A.Ş., especially active in the privatization of the Albanian Telecom (incumbent) and the Establishment of a mobile operator.
Mr. Erdem is married and has a son.
President of Ericsson-Turkey and Vice President of Ericsson-RMEA (Turkey)