Speakers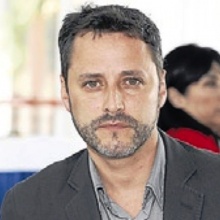 Oscar Velasco i Blaya
Communication Executive at the Catalan Branch of the Spanish Red Cross
Òscar Velasco i Blaya is the Communication Executive of the Catalan branch of  the Spanish Red Cross. Since 2006, he has been in charge of the communication and e-marketing strategy at this international humanitarian movement with local headquarters in Barcelona – an organization with a budget of 62M ˆ that attended nearly 900,000 users in 2014 in Catalonia, mostly on the fight against poverty and emergency programs, with the collaboration of over 19,000 volunteers, 210,000 supporters and 9,000 enterprises-.
His past career includes:
External Professor Collaborator: Master of Business Management of Cultural Institutions and Sponsorship Module and External Fundraising in IL3, University of Barcelona, and the Master of Public Relations and Press Officer of the Autonomous University of Barcelona (since 2009).
Technical Coordinator of the Centre for Peace at the Red Cross (2004-2006).
Degree in Journalism, Autonomous University of Barcelona (1992-1997).
European Master in Management of Digital Interactive Services (EMMDIS) of the French National Audiovisual Institute (INA), the Programme PLUS MIG European Union (2003). Diploma with special mention.
European Master in Interactive Communication (Telecommunications and Multimedia) with support from the MEDIA Programme of the European Union at the Universidade Nova de Lisboa and Universitat Autònoma de Barcelona (1996-1998).
University Professor aoft Journalism and New technologies, at ESERP Journalism School Degree, University of Vic (2004-2007).
Consultant, Project Manager and Editor of online educational content at D'Aleph Multimèdia (2003), and Nexe SL, Information systems and interactive training (1999-2003).
Journalist and editor at Shandwick Ibérica SL (2001), online magazines Barcelona La Netro (1999-2000), and Coches.net Magazine (1998-1999), and TV stations: Barcelona TV (1999), Televisio de Catalunya, SA (1997-1999) and Spanish Television SA (1996).
Communication Executive at the Catalan Branch of the Spanish Red Cross