Speakers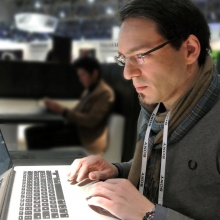 Antonio De Rosa
Founder of ADR Studio, CEO of Socialmatic LLC
Dr. Antonio De Rosa strives to put together Italian creativity and great design with international taste, in order to develop a new way for today's marketing. He enters the world of communications and marketing quite young, beginning with his experiences in the gaming business, where he has held various roles in key activities - from graphic-related to project management.
He has completed his studies and holds a Masters degree in Communication and Marketing, with a certain experience and specialization in the Creative Area, gained while working for big advertising agencies around the globe - in Genoa, Milan, Turin, Miami, Caracas, Bogotà - and functioning as a Senior Graphic Designer, Web Designer and Art Director.
He has actively tried to expand his professional knowledge via numerous collaborations with international campaigns for Smart, Swatch and Rolls Royce and also with many IT companies in Singapore and Hong Kong.
Meanwhile, he has been pursuing his career in Industrial Design and he has already produced several mobile devices, hi-fi and IT for Home Entertainment, intended for many OEM manufacturers.
He has joined the world of Network Marketing, where he functions as a specialist in marketing and communications and offers advice for major companies within the industry, thanks to his expertise in social networks and relationship marketing.
He also continues his freelance activity, especially in the field of design, and he has acquired a considerable reputation for his concept on the web regarding future Apple products, such as the iWatch (2010) and iCam (2011) - the prototype of a watch and a camera, in addition to a long list of acclaimed iPhone mockup (full-size model of a design or device), published on most important IT magazines in the world.
Antonio is also the CEO of Socialmatic LLC, a new IT Photo-Company focused on creativity and innovative products.
Founder of ADR Studio, CEO of Socialmatic LLC