WCF | Barcelona 2014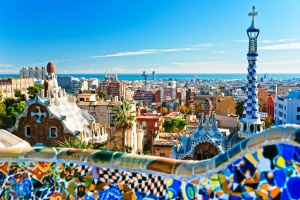 Regional Session
Worl Forum "Communication on Top"
BARCELONA SESSION 2014
VISUAL COMMUNICATIONS
The World Forum "Communication on Top" in Davos - Barcelona Session (WCFDavos|Barcelona) aims to show global trends in the local context. Barcelona, as one of the world's design capitals and most charming and attractive cities on Earth, has been chosen as a location for the forum session dedicated to VISUAL COMMUNICATIONS.
The goal of the event is to find new effective decisions in visual communications. Globally known experts will share their vision and experience of the future language of communications and exchange best practices. WCFDavos|Barcelona session is an opportunity not only to speak and network, but also to look and see: the Exhibition will display Best Design Works'2013 and new visual communication formats such as augmented reality, 3D projection, interactive holograms, and trans-media installations.
Venue: Centro de Cultura Contemporanea de Barcelona (CCCB.org)
Address: Montalegre, 5, 08001 Barcelona, Spain
Phone: +34 667 281 006
Email: barcelona@forumdavos.com
Exhibition:
- New visual technologies: augmented reality, video mapping, multimedia installations, 3D-projections, interactive holograms, and more.
- Best design cases 2013
For more details: barcelona@forumdavos.com
Registration terms: click here
Online registration: click here
Get hot updates via our Facebook event: WCF-Davos|Barcelona

Top reasons to become a Sponsor:
- Opportunity to position company as an innovative market participant, which pays attention to strategic visual communications.
- Development of B2B relations with leading European companies.
- Demonstration of your company's strategic approach.
Opportunities for partners:
- Welcome, if your company, professional association and brand is interested in smart audiences and quality promotion activities.
- Being the sponsor of WCFDavos|Barcelona Session 2014, your company can expand its presence in the main Davos summit.
23rd May 2014
9:55 - 10:00
Opening of the session.
Session Moderators: Elizaveta Panfilova, Founder and Director of Salvador D creative lab (Russia).
Yanina Dubeykovskaya, Committee Co-Chair and Content Director of the WCFDavos (Russia).
10:00 - 10:30
Key debate and discussion. The future language: image or text?
Advocating text: Alfred Koblinger, CEO, PKP BBDO (Austria).
Advocating image: Jan Mikulin, Global Digital Planning Director at Grayling (UK).
10:30 - 11:30
Panel discussion. Integrated communication campaigns: PR, Design, Video, Event.
Panel moderator: Alba Roig, Head of the Spanish branch of Lewis PR (Spain).
Jorge Gállego, Head of Public Relations and Corporate Communications, Sony Iberia (Spain & Portugal).
Jorge López, VP Southern Europe, Lewis PR (Spain).
Deborah Gray, Founder and Director of Canela PR (Spain & Portugal).
Óscar Velasco i Blaya, Press Officer of  Red Cross in Catalonia (Spain).
12:00 - 12:30
Keynote. "Your whispered memories become secrets."
Alberto Tognazzi, Consultant and Designer specializing in Mobile culture (Spain), Professor of IED.
12:30 - 13:30
Panel discussion. Visual SM: Involvement and creativity: Instagram, Pinterest, Vine.
"Generation F or Who Rules the World Today?" - by Maxim Behar, WCFDavos Committee co-Chair, Chairman of Hill+Knowlton Strategies (CZ) and CEO & Board Chairman of M3 Communications (BG).
Teresa Figueira, General Manager for Lisboa, H+K strategies (Portugal).
Cristina Espallargas, Director for Barcelona, Grayling (Spain).
13:30 - 14:30
Lunch break.
Special session: "Generation F", a best-seller by Maxim Behar, WCFDavos Committee co-Chair, Chairman of Hill+Knowlton Strategies (Czech Republic), CEO & Board Chairman of M3 Communications (Bulgaria).
14:30 - 15:00
Keynote: Necessary ingredients of communication in XXI century: the role of graphic design.
Dr. Jesús Del Hoyo Arjona, Dean of  Collegi Oficial del Disseny Gràfic de Catalunya (Spain).
15:00 - 16:00
Panel discussion. Visual storytelling: images, videos, infographics. Simplifying complex stories.
Keynote: "Visuals we live by. How the images we use can shape our world."
Eva Snijders, professional storyteller, Founding Partner of "Visual Chemistry" (Spain).
Javier Jaen, Graphic designer at javierjaen.com (Spain).
Montecarlo, Co-Founder of Química visual - Visual Chemistry (Spain).
16:15 - 17:30
Panel discussion. Design of life, design for life.
Panel moderator: Deborah Gray, Founder and Director of Canela PR (Spain & Portugal).
Antonio De Rosa, Founder of ADR Studio, CEO of Socialmatic LLC (Italy).
Catarina Vasconcelos, Managing Director of LPM Comunicação (Portugal).
Ekaterina Lavrova, PR director, Depot WPF (Russia).
Frank Gramage, Senior Brand Communications Manager, Vistaprint (Spain).
17:30 - 18:30
Presentations and live show. Emerging technologies for visual communications.
(Augmented & Virtual Reality, Wearable Glasses & Video-mapping)
Panel moderator: Isidro Navarro Delgado, Founder of Augmented Reality Barcelona (Spain).
Héctor Zapata, Virtual and Augmented Reality developer, CEO of Tetravol, teacher at School of Architecture of Barcelona ETSAB (Spain).
Albert Burzon, Member of Burzon*Comenge office. Specialist of video-mapping technology (Spain).