Speakers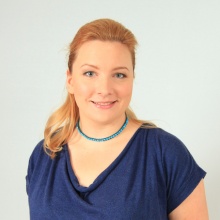 Oksana Horbach
Digital Director, AGAMA Communications
Oksana Horbach is an experienced digital strategist skilled at finding digital media solutions that leverage client business success. Oksana began her carrier in 2008 at the Art Lebedev Studio, the most known design bureau in CEE. In 2009 she joined AGAMA Communication (then Atlantic Group) as a digital producer at DDM Studio, the digital production agency, where she built successful relationships with international accounts including Sudden Industries (USA), KLM (the Netherlands), Swisscom (Switzerland), LG, and others.
2 years later she became a New Business Director and introduced DDM Studio to local markets and won Ukrainian-based accounts including Bayer, JTI, Slavutich Carlsberg Group, Delta bank, Viasat, Sanofi Aventis and other, achieving 210 % increase of new business volume compared to 2010, and introducing new expertise to DDM Studio capabilities: "Digital communication strategy development".
In 2012 Oksana joined Liquid7 Digital Content House, a digital content and storytelling agency within AGAMA Communications (then Atlantic Group), as its New Business Director. Under this role Oksana won a number of major pitches with Carlsberg Group, Honda, Technopolis, Brown Forman and others. By the end of 2012, the agency's first year on the market, Liquid7 was included into the TOP-4 Ukrainian Agencies classified by revenue, according to the Ukrainian Ad-Coalition.
Under her leadership, the agency included new expertise to its portfolio: online research and analytics department, which Oksana created and lead.
In the end of 2013, Oksana became Digital Director at AGAMA Communications to lead the digital business of the communication agencies within the holding.
Digital Director, AGAMA Communications