Speakers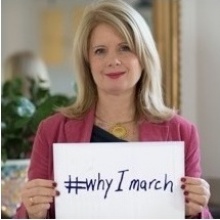 Karen Olson
Community Organizer (Switzerland)
Karen Olson is a community organizer and progressive citizen activist who uses social media in global organizing campaigns that unite communities across borders. She is currently a Global Coordinator for Women's March, a brand-new movement bringing together grassroots coalitions around the world to promote women's rights as human rights and to champion the values of equality, diversity and inclusion.
Karen is a bridge-builder and cultural interpreter, with three decades of experience working in the US, Europe and Russia. Over the past twenty years, she has used her organizing and communications skills in a variety of settings, from directing local volunteers in a national US political campaign to interpreting high-level international meetings held in the four languages she speaks.
As an organizer, alongside her current project helping to create the Women's March Global NGO, Karen works with young people with disabilities in Russia and Europe. She launched the "Theatrical Perspectives" program in Moscow in 2012, which provides young people with disabilities the opportunity to learn the art of playwriting as a means to find their public voice, to experience and advocate for inclusion and to acquire leadership skills. She also fosters the empowerment of women leaders and activists in civil society through Women's Bridge, an association she co-founded in Moscow which brings together almost 400 women leaders and activists in Russian and international civil society to exchange experience and expertise.
From 2010 - 2012, Karen worked as a trainer on civil society organizing techniques in Russia, developing online training for Russian civil society organizations, facilitating youth exchanges between Russia and Europe and webinars between Russian and US civil society experts. She first worked in Moscow in 1989 as a Russian-speaking Exhibit Guide for the "Design USA" exhibit, serving as a U.S. Foreign Service Officer as part of a decades-long cultural exchange program between the US and the USSR.
In 2008, Karen was a Field Organizer with the successful Florida Campaign for Change, organizing hundreds of volunteers in canvassing, phone-banking, voter registration and get-out-the-vote activities, mobilizing Latino and Haitian communities using Spanish and French, and overseeing the registration of thousands of new voters.
Her experience as an activist in the US Democratic Party includes serving as a delegate to the Democratic National Convention in 2016, as a member of the National Advisory Board of the Democratic National Committee from 2008 – 2012, and as a member of the Executive Committee of Democrats Abroad Switzerland from 2007 – 2009. During that time, she co-founded of the grassroots organizing group Geneva for Obama, uniting more than 500 Americans abroad in Geneva, Switzerland, in support of Barack Obama's campaign for the nomination.
Karen has studied community organizing with Professor Marshall Ganz of Harvard University's Kennedy School of Government, and was recently invited to return as a Teaching Fellow for the "Leadership, Organizing and Action" course. She holds a Master's Degree in Interpretation from the University of Geneva, and a Bachelor's Degree in History, with Honors in Russian, Soviet and East European Studies, from Williams College.
Community Organizer (Switzerland)