Speakers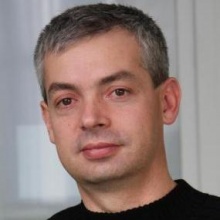 Oleksiy Pogorelov
General Director, Ukrainian Association of Press Publishers (UAPP)
Oleksiy Pogorelov is a General Director of the leading Ukrainian professional association of publishers named Ukrainian Publishers' Association (UAPP) since June, 2006.  He is a publisher with more than 10-years successive experience, and editor-in-chief with more, than 13-years experience of development and making titles leading in the segments of business and specialized press.
Oleksii is author of more, than 120 press articles, author or co-author of 3 books on publishing companies management and editorial management, is acting editor-in-chief of two media professionals' web resources - publisher's web-site (www.uapp.org) and editor's portal (www.redactor.in.ua). He is an expert for the most of main specialized publications on printed mass media – «Telekritika» (TV critics), «Media Business», «Media Marketing Review», «Director Tipografii» (Director of the print factory), Sostav.ua, Reklamaster.ua and others.
Oleksii is a media-trainer, consultant and manager on the contract on the stage of creation, development and management improvement for different publishing projects – from "traditional commercial" to corporate magazines, newspapers, web-sites.
Since 2004 Oleksii is independent consultant, master-classes performer and trainer for the effective communications establishing and running. He conducted master-classes on effective interaction between PR-specialists and journalists for the Kyiv Mohila Business School (kmbs) listeners, Coca-Cola in Ukraine PR specialists, for specialists from agencies Pleon Talan Ukraine and Radnyk (Advisor), for HR-directors and specialists – during the professional exhibitions of training programs BOTEXPO 2007 and 2009, and others. He is advising (or was an advisor earlier) for companies ExpoPromoGroup, Incom (department for IT-consulting), real-estate supermarket "Square metre", "Brokbusinessbank", Amway Ukraine, "National Container Company", "Joined distributing systems", agencies Pleon Talan Ukraine and Radnyk (Advisor) and others.
General Director, Ukrainian Association of Press Publishers (UAPP)