Speakers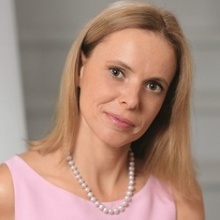 Olena Sibiriakova
Managing Partner Rost Group, expert of mass communications, member of Ukrainian ASPEN club (Kyiv), affiliated member of CIPR
EXPERIENCE
In the middle of the 90s Sibiriakova worked for the Ukrainian TV (1+1 TV channel).
Since 1998 she is the founder and co-owner of the Rost Brand. The company  was established in 1998, and from that moment on has earned trust of clients both in the national and international markets.
Olena Sibiriakova: "A butterfly flapping its wings somewhere on Caribbean islands can cause a hurricane in Europe. Create your correct communication strategy for a single market, and within a moment's notice it will be known on other markets, as well!"
Since 2008 she is the project director of SINCE, a program solution for integration of web, TV and new media - to create, exchange and drive information to a new level.
Olena Sibiriakova: "There's no news in the fact that online streaming has become a routine nowadays. New TV formats and new generation interactive platforms for social activity start uniting people and are being born due to the new means of internet communication – that's important."
The launch of SINCE and the first TV game show interactive  format The 7th SENSE took place on the MIPFormat in Cannes in 2014.
In 2007, Olena Sibiriakova published her first book titled "Course of Events".
In 2012, Sibiriakova presented for the public her new novel "Ukraine. G-Spot".
In 2010 she made an analytical presentation on "Local Elections in Ukraine: in Search of a Democratic Model" at the Ukrainian Research Institute, Harvard University.
Olena Sibiriakova is currently a professor going to defend a thesis about the mass media and the factors of interactive and instant feedback.
EDUCATION
1991 - KYIV  INSTITUTE OF THEATRICAL ART, TV-journalism, Kyiv, Ukraine
2011 - CHARTERED INSTITUTE OF RELATIONS, CIPR DIPLOMA in PUBLIC RELATIONS, London, UK
Managing Partner Rost Group, expert of mass communications, member of Ukrainian ASPEN club (Kyiv), affiliated member of CIPR