C4F Awards 2013
Titan of the future - nominees
We live in the New Renaissance era, when a new type of people emerge – people, who are creative in every aspect, available 24/7, committed to the high business and ethical standards of true global leaders. Some call them multitaskers, but we consider them to be the re-born Leonardo-s, the new Titans of our new epoch.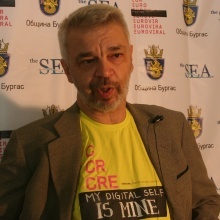 Gianni Catalfamo
Gianni Catalfamo received the C4F-Davos "Titan of the Future" award for his contribution as a true Digital Native and Founder of cc:catalfamo (Italy) - "the boutique specialized in Digital & Social Media Leadership programs" founded by him in 2012, or in short - for his work as a Blogger at Son of Geek Talk.
In his professional career he has been the Web 2.0 evangelist for Pleon Europe, as well as co-leader of the European Technology Practice. He has also been in charge of the International Accounts of Pleon's largest technology clients: he led the IBM Account for Europe for 4 years and the European Account for Lenovo.
Gianni believes that our Digital Self belongs to us, and to us only! It should be "Ours, Portable, and Safe".