Speakers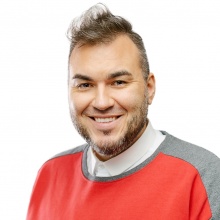 Alexander Izryadnov
Head of Communications of the Internet Initiatives Development Fund (IIDF)
Alexander Izryadnov holds a diploma from the Ryazan State Pedagogical University named after S.A. Esenin (1999) and from the University of Potsdam, Germany (2003).
In his past career, he worked as Senior Manager of the corporate clients department at OJSC Mobile TeleSystems MTS (2003-2005), then functioned as Program Director at «Love Radio» (2007), and from 2008 to 2011 he worked as Editor in Chief at OJSC «Muz.ru». Alexander was also Head of Marketing and Strategic Communications in Mail.Ru Group from 2011 till 2013.
Since 2013, he is Head of Communications at the Internet Initiatives Development Fund (IIDF).
Alexander's key professional skills are top-management promotion, reputation management, crisis management, launching new brands and relaunching established ones.
Head of Communications of the Internet Initiatives Development Fund (IIDF)