Speakers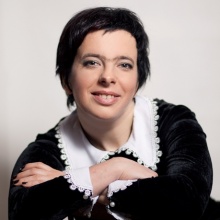 Julia Skorokhodova
Bord Chairwoman at Yaroslavl Convention Bureau, General Director of Yaroslavl DMC Volga-Tour
Julia Skorokhodova is Yaroslavl Convention Bureau's chairwoman of the board, General Director of the multi-business company Ltd "Volga-tour", member of the Coordination Tourism Council of Yaroslavl region.

She was born in Rybinsk, Yaroslavl region in the family of a military man, successfully graduated from the St. Petersburg State University and has a degree in philosophy.
She began her career in regional weekly newspaper Youth" on the position of a journalist and after some years of work was promoted to an executive editor.
In 2004 Julia founded the travel agency "Volga - tour", which in 10 years of its existence has become the leader of the MICE industry and Incentive market as well as the Corporate tourism  within the Golden Ring region, organizing and servicing activities of any range and complexity.
For three years (since 2009 till 2011) the company "Volga- tour" had been the general service contractor of the World politician forums with the participation of the President of the Russian Federation and leaders of European countries and service agent of the most influential international conferences such as Yaroslavl International Energy Forum and International Tourism Forum. Also the company regularly serves various congresses and conferences, public official receptions.
In 2012 Julia established the Uncommercial partnership Yaroslavl Convention Bureau and was elected as a chairwoman of the board.
More than that Julia Skorokhodova was awarded letters of thanks from U.Mulander, the Special and Plenipotentiary Ambassador of Sweden in Russian Federation, Per Carlsen, Ambassador of Denmark, jubilee town-hall's sign "For the 1000th Yaroslavl anniversary preparation", Yaroslavl region government's gratitude for active participation in preparation and realization of World politician forums 2009- 2011, the special representative's gratitude of the President of the Russian Federation in Central Federal District for successful organization and realization of the Russian national forum "Future intelligent leaders of Russia" in Yaroslavl.
Her name was entered in the Golden Book of Yaroslavl and Yaroslavl region as well as in the book "Who is Who in Russia." Julia prelects on business tourism at tourism and area studies department in Yaroslavl State University named after P.G.Demidov. She is a participant and speaker of the regional project "Top-Legion", association of directors and top managers for the purpose of union and the best management strategy development, an organizer of TEDx in Yaroslavl, an author of different publications in regional and federal mass media.

Experience of playing as a speaker:
- IV International Conference "Regional development of the Meetings industry" (Ekaterinburg, November 2011);
-Round table "Marketing of territories" (Rostov, November, 2011);
-XIV International scientific-practical conference "Marketing in development of areas" (Yaroslavl, December 2011);
-Eurasian Event Forum (January 18-20th, 2012, St. Petersburg);
-Conference on business tourism and corporate events MIBEXPO- 2012 (Moscow, September 2012);
-International Tourism Forum «Visit Russia 2013» (Yaroslavl, October 24-25th, 2013);
-Event tourism national prize «RUSSIAN EVENT AWARDS» (Suzdal, December 2013);
-IX Award in the field of public relations «RuPoR» (Suzdal, December 2013);
-Russian forum of meetings industry (Moscow, March 21-22th, 2014).
Bord Chairwoman at Yaroslavl Convention Bureau, General Director of Yaroslavl DMC Volga-Tour