Speakers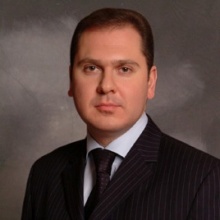 Oleg Kalinskiy
Director General at the Pipe Industry Development Foundation
Oleg Kalinskiy - Director General at the Pipe Industry Development Foundation.
Born in 1977 in the city of Pyatigorsk, Stavropol Region, Russia.
Career:
Since 2013: Head of the Fund for development of pipe and tube production.
2011-2013: Head of the Business Development, Business Development and Marketing Director, Ernst & Young CIS.
2008-2010: Director of Corporate policy, Vice-President for corporate relations, Alkoa Russia.
2008-2009: Chairman of Alcoa Metallurg Rus (Alcoa plant in the Rostov region of Russia).
2006-2008: Vice-President of The PBN Company.
2005-2006: Deputy General Director, Gazmetallproekt.
Adviser to the General Director of Oskolsky Electrometallurgy Plant.
2003–2004: Head of strategic development and energy conservation, Department of industrial innovations and metallurgy, Russian Ministry of industry, science and technologies.
Education:
Current: Head of the EMBA Program "GR-management: modern technologies of government relations" at the Business School of the Russian Union of Industrialists and Entrepreneurs.
Professor of Economics and PhD in economics.
2006: Graduated with highest honours from the Russian Academy of Public Service, specialising in law.
2003: Graduated with a metallurgy engineering degree from the "MISIS" (Moscow Steel and Alloy University (Moscow).
2000: Graduated with highest honours from the Pyatigorsk State Linguistic University, specialising in English and Spanish.
1998: Graduated with highest honours from Hastings College (USA) with qualifications in economics, political science and management.
Director General at the Pipe Industry Development Foundation