Speakers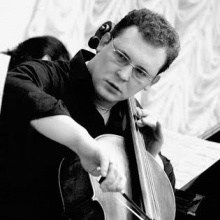 Boris Lifanovsky
Soloist of the Bolshoi Theatre, Music Producer and Analyst
Boris Lifanovsky was born in Moscow, Russia. He graduated from the Moscow Tchaikovsky Conservatory in 2002, studying with Kirill Rodin, Tatiana Gaidamovich and Zinoviy Bonduryansky.
From 1999 till 2001 he was Member of the Mariinsky Theatre Orchestra lead by Valery Gergiev. Since 2002, he has been Member of the Bolshoi Theatre Orchestra, and since 2007 - a cello concertmaster there.
From 1996 till 2005 he was Founding Member of the Academ trio with Jacob Katsnelson (piano) and Irina Petukhova (violin).
Boris is Laureate of the Russian and international music competitions and he regularly appears as a soloist or co-player in chamber ensembles - both in Russia and abroad.
He is the Founder of the first Russian classical music website - "Moscow music herald". He is also the Founder of the largest Russian classical music portal - ForumKlassika.Ru.
Currently, he is the owner of the Russian classical music news digest - ClassicalMusicNews.Ru.
Boris published a book called "Internet for a musician". He has contributed to a wide range of Russian and Western press, including "Los Angeles Times", "Moskovsky komsomolets", and "Vechernyaya Moskva".
Soloist of the Bolshoi Theatre, Music Producer and Analyst