Speakers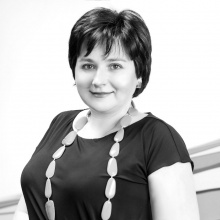 Yaryna Klyuchkovska
Director of Strategy and Development at GROU Public Affairs and Reputation Management (Ukraine)
Yaryna has 20 years of experience in communications. She is the co-founder of the Ukraine Crisis Media Center. She has conducted dozens of media training sessions for senior executives and government officials - the President's Administration, Ministry of Defense, National Security and Defense Council, Ministry of Agriculture, Ministry of Health, National Bank of Ukraine, etc.
During her career, she also managed and steered the communications departments of Microsoft Ukraine, Group DF, UMC (ĚŇS Ukraine) and Metro Cash & Carry Ukraine.
Yaryna focuses on communication strategies and executive communications.
In 2014, she served as Advisor to the acting Minister of Revenues and Duties of Ukraine.
In 2011, she was named by the MMR magazine one of Ukraine's best PR directors.
Director of Strategy and Development at GROU Public Affairs and Reputation Management (Ukraine)