Speakers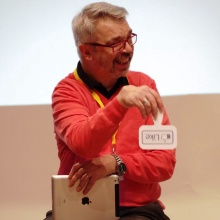 Gianni Catalfamo
Chairman of Pleon in Italy, Web 2.0 evangelist for Pleon Europe
Gianni Catalfamo is Chairman of Pleon, Italy.  He is the Web 2.0 evangelist for Pleon Europe, as well as co-leader of the European Technology Practice. Catalfamo is active as International Account Director for some of Pleon's largest technology clients. He led the IBM Account for Europe for four years and is currently European Account Director for Lenovo. His client teams benefit from his role as executive coach and communications strategy advisor.

Prior to joining Pleon, Catalfamo founded, in 1986, the Italian operation of Lotus Development Corp., setting up the first Lotus office in Milan. During his tenure with Lotus, the Milan office grew from two employees and USD 700,000 in sales to 35 employees and over USD 10 million in sales. He also gained valuable field experience at Olivetti, where he spent two years in sales and marketing in the finance sector, and at IBM, where he started his career as a Systems Engineer.

Catalfamo graduated in 1981 in Nuclear Engineering from Milan's Polytechnic, after a humanistic background in classical letters. He has served as board member in several technology associations such as Assintel and FED. Some of his written works have been selected as essential reading for the Internet for Business Communication course at the SDA Bocconi Business School, where he also occasionally speaks on the impact of technology on communication.
He is an active blogger at the company's KETCHUM blog, as well as at his personal Son of Geek Talk, where he writes articles about Social Media & Digital stuff.
Chairman of Pleon in Italy, Web 2.0 evangelist for Pleon Europe