Speakers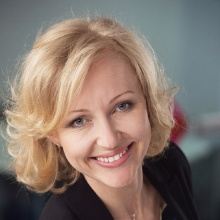 Tetiana Katrych
Managing director, Media Direction|OMD (Ukraine)
Tetiana Katrych – media services director of AGAMA communications, managing director of Media Direction|OMD, professional with over 14 years of experience in media planning, statistics and mathematical analysis, strategic planning, product development and business consulting.
Thanks to the active position and the initiative of Tatiana advertising market of Ukraine has received a range of innovations in TV, outdoor advertising and digital.  Under her leadership, in 2010 the agency Media Direction | OMD created a separate direction of services - Brand Metrics and they were the first who demonstrate to the market the whole spectrum of econometric modeling.  In 2015, Media Direction|OMD presented to the advertising market VPlan - integrator of planning video campaigns on TV and on the Internet. In 2016, the strategic team of AGAMA communications led by Tatiana initiated formation of analytical hub MD|OMD INTELLIGENCE, focusing on integrated analytics to develop analytically valid marketing solutions.
Media Direction Ukraine|OMD – has been named Ukraine's most effective media agency for three consecutive years (Effie Awards, Ukrainian Advertising Coalition 2012-2014). It is a part of communications group AGAMA communications, and an exclusive representative of OMD network in Ukraine. TOP-10 media agency in Ukraine according to 2013 billings (Ukrainian Advertising Coalition's rating).
Managing director, Media Direction|OMD (Ukraine)