Speakers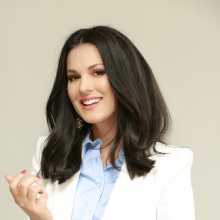 Maria Efrosynina
Founder of "Charity weekend", public figure, television presenter (Ukraine)
In 2014 Maria Efrosynina established "Charity weekend" – a series of charity events under the slogan "Spend time usefully": lectures, workshops, and public talks on relevant topics for women; large-scale events, such as the two-day sports and family festival "Charity weekend. Healthy day". All money from tickets' sales to Charity weekend events were given to children from Tsyuryupinsk orphanage, Kramatorsk orphanage "Antoshka", and Druzhkivka orphanage. Also one of the fields of work is purchasing medicines and medical equipment for pediatric resuscitation department of the Amosov Institute of Cardiovascular Surgery. More than UAH2 million were collected during two years of "Charity weekends".
In 2005 Maria was the host at 50th "Eurovision" competition, which took place in Kyiv. As creative producer she worked on a series of documentary films about famous Ukrainians "To Wake Up Famous". She has theater experience (theatrical enterprise "Helping is so easy, or Where do children come from") and playing in movies ("Five minutes to the subway", "Necklace for snowwoman", "Triple Protection").
The list of the most famous and high-rating television programs, which Maria Efrosynina hosted, includes "Pidyom", "Fabrika Zirok-3", "Gordist Krayiny", "Mriyi zdiyznuyutsia", "Showmustgoon", "Vidverto z Masheyu Efrosyninoy". In 2002, together with Yuriy Gorbunov she received Triumph award in the TV Shows category for "Pidyom" program.
Graduated from Taras Shevchenko National University of Kyiv. Institute of Philology, specialty – English and Spanish interpreter.
Founder of "Charity weekend", public figure, television presenter (Ukraine)