Speakers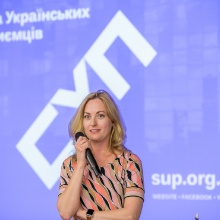 Kateryna Glazkova
Executive Director of the Union of Ukrainian Entrepreneurs, editor and media manager (Ukraine)
Kateryna Glazkova heads the Union of Ukrainian Entrepreneurs, the first largest united power of Ukrainian entrepreneurs established for the purpose of popularizing entrepreneurship and forming a comfortable business climate for its development in Ukraine. The Union represents and protects the interests of independent Ukrainian entrepreneurs regardless of the scale, area and location of their business activity.
Kateryna Glazkova has 15 years of experience in media and communications, particularly in business magazines. She started her career as a journalist. From 2004 to 2011, she worked in the print media, for the Korrespondent magazine and the Kommersant-Ukraine newspaper. She participated in the creation of the Focus magazine and Forbes-Ukraine. From 2011 to 2014, she was the chief editor of Investgazeta business weekly magazine and headed the project TOP 100. For a certain period, she also worked in government communications.
Over the years, she has been the organizer of business events, including the Business Wisdom Summit, the Opposition's business innovation competition, the Forbes Club, and Forbes Conferences.  She has the reputation of one of the best business editors of the country, since she is familiar with the business environment and the most acute problems of the Ukrainian business.
Kateryna graduated from the Lomonosov Moscow State University - faculty of journalism.
Executive Director of the Union of Ukrainian Entrepreneurs, editor and media manager (Ukraine)