Speakers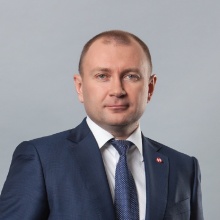 Viacheslav Klimov
Co-owner and co-founder, Nova Poshta President SUP (Ukraine)
From the beginning of 2001 till 2015, Viacheslav Klimov was Director General of Nova Poshta. Together with his partner, he elaborated and implemented a business development strategy that pushed the company onto a leading position on the Ukrainian express delivery market.
Since 2015, he left his former position in order to join the Nova Poshta Supervisory Board and focus on the strategic management of the group of companies which Nova Poshta had expanded into. As of today, the group incorporates Nova Poshta Ukraine, Nova Poshta International, Nova Poshta International Operations (representative offices in Moldova and Georgia), and NP Logistic and Post Finance.
In 2016, he was elected President of the non-governmental organization "SUP" – the first non-political union aimed at creating favorable business environment and spreading various innovations among the community of businessmen across Ukraine.
He obtained his master's degree in aviation engineering from the Kharkiv Aviation Institute, in 1998. In the late 1990s he acquired experience in teaching at Alma Mater and advanced himself in air engine construction at the Antonov science and construction complex (Kyiv, Ukraine). In 2007, he obtained his MBA from the International Institute of Business in Kyiv, Ukraine.
Co-owner and co-founder, Nova Poshta President SUP (Ukraine)