Speakers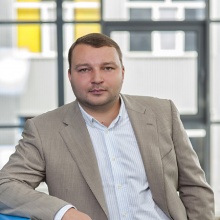 Mykola Zhandorov
Member of ProZorro Board of Supervisors, head of Zakupki.Prom.ua trading platform (Ukraine)
Mykola is a member of the ProZorro (system for public e-procurement) Board of Supervisors and head of Zakupki.Prom.ua trading platform. He is an official participant in the public procurement reform. The platform enables small and medium-sized companies to participate in public and commercial tenders, and for large companies it secures the possibility to use all the advantages of commercial e-procurement in their operations.
Mykola is a sales management and business development expert. Companies like Golden Telecom, DataGroup, Prom.ua have benefited largely from his experience. He also worked as the head of B2B department in Vega telecom group (part of SCM group), and held top-management positions at SiBIS system integrator and Nebesna Krynytsya company.
Mykola majored in English and Chinese language studies. The areas of his professional interest include marketing, finances, management and reform-implementation. Among his personal interests are history, literature and music.
Member of ProZorro Board of Supervisors, head of Zakupki.Prom.ua trading platform (Ukraine)