Speakers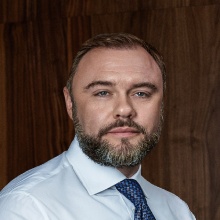 Gl³b Zahoriy
MP, Scientist and Philanthropist (Ukraine)
Gl³b Zahoriy took on the position of People's Deputy of Ukraine in 2014, and is currently a member of the Verkhovna Rada on the committees for veterans affairs, the conduct of war, anti-terrorist operations, and those with disabilities. He has assisted in the adoption of several laws related to supporting the disabled, including children with disabilities, the Ukrainian armed forces, veterans, and disabled veterans, as well as several rulings relating to the exemption of certain drugs and medical devices.
As a doctor of pharmacy, Zahoriy began his career in the CJSC pharmaceutical company Darnitsa as head of market research and logistics, working his way up to the position of CEO. He strongly supports the introduction of European standards of quality medicine.
Zahoriy, along with his father, has been proudly engaged in philanthropy, supporting the theatre, cinema, and pharmaceutical education in Ukraine. In 2015, he helped with the establishment of the charitable foundation "The Zahoriy Family" which, together with the Darnitsa, awards annual scholarships for gifted students.
MP, Scientist and Philanthropist (Ukraine)