Speakers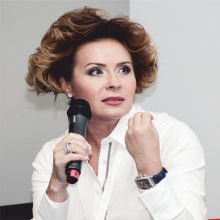 Nataliya Yeremeyeva
Founder and CEO Stekloplast, member of the Board of Directors of the Union of Ukrainian entrepreneurs (SUP)
Nataliya Yeremeyeva's company "Stekloplast" was launched in 1997 as a small regional factory for the production of plastic windows. Under her leadership, the product portfolio expanded, with the capacity of the plant increasing to 1,800 items per day, and 600 new jobs were created. Today, Stekloplast offers to the consumers all possible types of translucent constructions. 10% of its products are supplied to export markets in Belgium, Germany, Kazakhstan and Australia. More than 300 construction projects are in the company's portfolio: among them, the ones known in Ukraine: TSUM (Kyiv), Pushkinskyi shopping and entertainment mall (Donetsk), Menorah cultural and business center (Dnipro).
In 2013, Ms. Yeremeyeva co-founded the Association of windows and facades - for relevant players on the market. The main objectives of the association are: developing the market of translucent constructions in Ukraine and formation of transparent rules of interaction for all participants – consumers, producers, sellers.
Since April 2016, Ms. Yeremeyeva is a Member of the Board of Directors of the Union of Ukrainian Entrepreneurs (SUP), which protects the interests of local small, medium, or large businesses, operating outside politics.
In addition, Natalia is a member of the Ukrainian Union of Industrialists and Entrepreneurs, the Association of owners of family businesses - FBN, the CEO Club Ukraine, the Ukrainian Building Community, and the Aspen-Ukraine Association. She is a lecturer at the Kyiv-Mohyla Business School.
Natalia holds two degrees from the National Mining University of Ukraine – in engineering and in economics. In 2013, she graduated from the President's MBA-7 at the Kyiv-Mohyla Business School.
Founder and CEO Stekloplast, member of the Board of Directors of the Union of Ukrainian entrepreneurs (SUP)