Speakers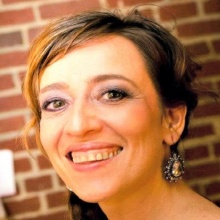 Izabella Tabarovsky
Manager for Regional Engagement with the Kennan Institute (Ukraine)
From 2012 to 2014, Izabella Tabarovsky worked for the Carnegie Endowment for International Peace, where she led the implementation of the Euro-Atlantic Security–Next Generation initiative (EASI Next Generation). The initiative brought together the new generation of stakeholders committed to transforming the Euro-Atlantic region into a more secure, inclusive, and cooperative space. Prior to that, she managed a track of 2 Transnistria conflict resolution task forces and a U.S.-Russian health cooperation task force.
Prior to joining Carnegie, Izabella worked for the private communications consultancy Emerging Markets Communications, where she was in charge of strategic research and analysis. She graduated from the Harvard University's Kennedy School of Government, where she developed and implemented a communications strategy for its U.S.-Russian Investment Symposium. She also got involved with the Cambridge Energy Research Associates, where she published numerous papers on geopolitics of Eurasian energy and led the establishment of a flagship initiative: the CERA Eurasia Transportation Forum.
Izabella has served as an associate producer on the critically acclaimed PBS documentary series on economics and globalization - "Commanding Heights: the Battle for the World Economy" - where she developed key segments on Russia's transition to a market economy. Her other media credits include the PBS/Frontline documentary "The Age of AIDS" and "On Point with Tom Ashbrook" - an acclaimed NPR talk-show.
Izabella holds an MA degree in Russian History from the Harvard University and a BA degree from the University of Colorado in Boulder. She is a native Russian speaker with working knowledge of Hebrew, Spanish, French, and German.
Selected publications: here
Manager for Regional Engagement with the Kennan Institute (Ukraine)