Speakers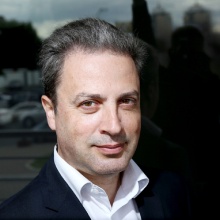 Vadim Rahlis
Mediator, extreme negotiator (Ukraine)
Since 1998, Vadim Rahlis has been engaged in extreme negotiations (commercial negotiations on major transactions, and, if necessary, negotiations with criminals). He also took part in negotiations with people suffering from suicidal syndrome.
Currently, he advises shareholders and top management of large organizations on extreme negotiation and conflict resolution in the business environment. He advises individuals and conducts mediation and training in extreme negotiations (in particular, the methods of first contact, status monitoring and opponents' emotions control, including influence and persuasion) Among his clients, there are large manufacturers such as: BAS Kazakhstan, Bahan Israel, HR-practice, Ritz-Carlton (Marriott, Kazakhstan), and others.
He studied the Harvard method of negotiation in San Francisco (USA) and Tel Aviv (Israel). Is a certified Specialist of the Adizes School, he holds specializations on "Change Management" and "Roles and styles". He is a certified NLP master, a certified mediator of the European Union (graduated certification course in Sofia, Bulgaria), and led more than 70 cases of business mediation. He is a student of Igor Tunik - Chairman of the Supervisory Board of BPT GROUP and follower of Eastern Philosophy (specialization "Extreme negotiations with criminals"), Mark Goulston, and George Kolrizer.
Mediator, extreme negotiator (Ukraine)