Speakers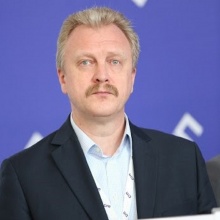 Sergiy Bartoshchuk
Executive Director and Retail Deal Team Leader at SigmaBleyzer, Chairman of the Board at KOSMO, Board Member of the Union of Ukrainian Entrepreneurs - SUP (Ukraine)
Sergiy Bartoshchuk is a Deal Team Leader at the investment company "SigmaBleyzer" and Chairman of the Board at the COSMO retail chain.
COSMO has more than 120 retail stores and pharmacies with a turnover exceeding half a billion UAH. Mr. Bartoshchuk works with COSMO management in order to improve operations, approve investments and develope the company's strategy.
Mr. Bartoshchuk joined SigmaBleyzer in 2002 as a consultant, then he developed and led the company's consulting services and became a Deal Team Leader for retail in 2006.
Prior to joining SigmaBleyzer, he worked at Deloitte & Touch Management Consulting, as well as in various management positions at two international companies (S.C. Johnson Wax and XEROX, branches in Ukraine).
Mr. Bartoshchuk holds a degree in engineering from the Kyiv National Aviation University. He is a Candidate of Technical Sciences at the Ukrainian Academy of Sciences and an holds an MBA from the Anderson School at UCLA.
Executive Director and Retail Deal Team Leader at SigmaBleyzer, Chairman of the Board at KOSMO, Board Member of the Union of Ukrainian Entrepreneurs - SUP (Ukraine)