Speakers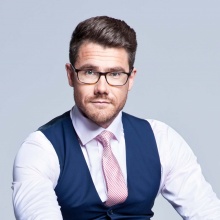 Mateusz Grzesiak
Expert in interpersonal and business relationships, coach, author of books about psychology of success, change and relationships, emotional intelligence and mindfulness (Poland)
Mateusz is an experienced and creative psychologist and coach with a specialization in multiculturalism and innovative approach to business consulting and personal life management. He has twelve years of experience in seminar development and conduction, business advisory and consultancy, motivational speaking and coaching worldwide. He implements various kinds of projects, consultations, and conducts training sessions with workshops, publishes digital products for many markets or gives lectures at universities.
Mateusz is also a regular guest on a wide range of TV and radio programs broadcast in Poland and abroad. He works with middle and senior company managers, entrepreneurs, celebrity stars, athletes and many others from around the world.
More than 350 thousand fans follow his social media profiles.
He performed with: Randy Gage, Robert Cialdini, Tony Robbins, Brian Tracy, Blair Singer, Robert Kiyosaki, Jack Canfield.
His life interests are: psychology, interdisciplinary knowledge, traveling, Brazilian jiu-jitsu, wine culture.
Expert in interpersonal and business relationships, coach, author of books about psychology of success, change and relationships, emotional intelligence and mindfulness (Poland)