Speakers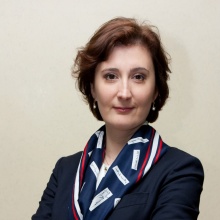 Kateryna Smagliy
Director, Kennan Institute (Ukraine)
Since 2014, she has been the director of the Kennan Institute in Ukraine. She has more than 15 years of professional experience ranging from international organizations, diplomatic missions and democracy promotion foundations to civil society and academia.
Kateryna served as a Kyiv-based consultant of the Brussels-based European Endowment for Democracy (EED). In 2009-2012, Dr. Smagliy led the Anti-Crisis Humanitarian Program at the International Renaissance Foundation. She also assisted the establishment of the National Center for Social Entrepreneurship in Kyiv. In 2003-2008, she worked for the U.S. Embassy in Kyiv. She was also the Embassy's principal liaison officer with the Verkhovna Rada of Ukraine.
In 2005, she was awarded a Superior Honor Award by the U.S. Department of State "For sustained superior performance to promote democracy in Ukraine during the 2004 Orange Revolution".
Dr. Smagliy holds a Ph.D. from the History Department of the Central European University (Budapest), an LL.M (Master of Laws) in European Union Law from the University of Reading (UK) and a BA in humanities from the National University of the Kyiv-Mohyla Academy.
As a 2012-2013 Fulbright-Kennan scholar, Dr. Smagliy studied the history of American philanthropy and social entrepreneurship. Based on her research, in 2014 she published the book "Everyone is a Change-maker: Social Entrepreneurship and Strategic Philanthropy."
Dr. Smagliy is an Associate Professor of the Kyiv National University of Culture and Arts. She is a national correspondent of the European Museum Forum in Ukraine and a board member of the Ukrainian Fulbright Alumni Association "Ukrainian Fulbright Circle".
Director, Kennan Institute (Ukraine)