Speakers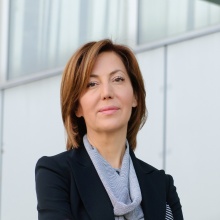 Iryna Mirochnik
President of the Ukrainian Association of Flexible Packaging, Board of the European Rotogravure Association (ERA), President of Ukrplastic (Ukraine)
Since 2013, Iryna has been chairperson of the Board of OJSC UKRPLASTIC. Under her leadership, the company entered the top 15 largest European manufacturers of the industry. Today, it operates according to the international standards and provides jobs for over 1 400 employees. The enterprise systematically implements programs on environmental safety of production and products, introduces the energy efficiency and resource efficiency technologies, and develops new technologies and new materials. It has numerous patents.
Iryna has 25 years of professional experience in the implementation of innovative models of business development for the production of high-tech modern packaging materials. She is the founder and president of the Ukrainian Association of flexible packaging and Board Member of the European rotogravure Association (ERA). Since 2015, she has been the official representative of the Save Food international United Nations Environment Programme in Ukraine and founder of the Alexander Galkin international charitable foundation.
She is Doctor of Philosophy in Law, Honored Worker of Industry of Ukraine and has been included in the Top 100 list of the most influential Ukrainian woman according to Focus magazine in 2015. She is actively engaged in scientific, public educational and charitable activities and the author of several books and dozens of articles in scientific journals and collections of scientific articles, as well as in specialized media.
President of the Ukrainian Association of Flexible Packaging, Board of the European Rotogravure Association (ERA), President of Ukrplastic (Ukraine)