Speakers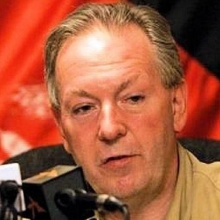 Mark Laity
Chief of Strategic Communications, Supreme Headquarters Allied Powers Europe, NATO spokesman and former BBC correspondent (UK)
Since 2007, Mark Laity has been the Chief of Strategic Communications (StratCom) at Supreme Headquarters Allied Powers Europe (SHAPE). He was the first to take this position which was created because of the growing importance of information campaigns in military operations. His unit played a key role in the development of the strategic communications policy (StratCom) and now oversees its implementation and further development during NATO operations.
Prior to that, he held various positions in NATO, including NATO spokesman in Kabul and adviser to Commander of ISAF, NATO Civilian Spokesman, Chief of Public Information at Headquarters Allied Powers (SHAPE), Special Advisor to the highest officials of NATO, Special Attache for communications with the military, the Head of Oversight Serviced for information campaigns during NATO operations, etc.
Mark Laity joined NATO after 22 years in journalism - mostly on BBC radio and television, acting as a producer, reporter and defense correspondent.
In addition, he periodically lectures media-related and strategic communications topics to various institutions ranging from the NATO Defense College to think-tanks and defense colleges of different countries, including the Kofi Annan International Peacekeeping Training Centre in Ghana (Africa), where he develops and manages a course on media operations issues.
Chief of Strategic Communications, Supreme Headquarters Allied Powers Europe, NATO spokesman and former BBC correspondent (UK)