Speakers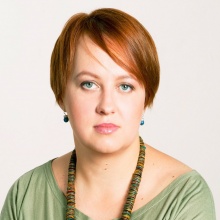 Kateryna Kotenko
Executive Secretary of the National Council of Television and Radio Broadcasting of Ukraine, prominent media expert (Ukraine)
With more than 13 years of experience in the Ukrainian media sphere, Kateryna Kotenko was elected Executive Secretary to Ukraine's National Council of Television and Radio Broadcasting in 2014.
She began her professional career with non-governmental organisations in Lviv, moving onto professional media groups after settling in Kyiv. Since 2005, she has headed the Industrial Television Committee, which, under her leadership, united four of the country's largest television groups, contributing to the development of the industry. On the legislative level, Kotenko has brought the Ukrainian television industry much closer to European standards and norms.
Kotenko has been a permanent member of public councils, working groups, and expert boards in the field of broadcasting and media management since 2002.
She was part of the organizing committee for the Triumph national television award. In 2010, she took 88th place in Forbes magazine's 100 Most Influential Women.
Executive Secretary of the National Council of Television and Radio Broadcasting of Ukraine, prominent media expert (Ukraine)