Speakers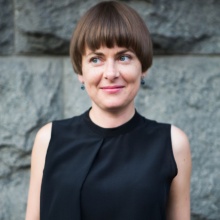 Yuliya Nikitina
Coordinator Social Dialogue for the «Youth on Andriyivsky» project in Kyiv (Ukraine)
Since 2011, she has been actively involved in protecting Kyiv from illegal building and also in conflict resolution between business and the public - by creating elected public advisory boards and through direct public dialogue.
In 2011, as Kiev Fashion Park's project coordinator, during the settlement of the conflict between the public and project management, she created an elected advisory board which included leading Ukrainian artists, architects, culture-studies experts and activists.
In 2012, Yuliya joined the group of activists dissatisfied with the intentions of Esta Holding to build a business center on Andriyivsky Uzviz. After the cancellation of the project which ended with an apology to the people of Kyiv, Yuliya (in her capacity as coordinator of the social dialogue for the project "Youth on Andriyivsky") created a bicameral elected public advisory board which included leading Ukrainian cultural workers.
Since 2014, Yuliya has been the coordinator of social dialogue for the Andriyivsky Uzviz overlap by mechanical devices (bollards), the first large-scale implementation of such kind of a system in Kyiv.
As a social activist, in 2012, Yuliya organized a rally-festival to protect the Peyzazhna (Landscape) Alley from illegal building and the exhibition of a scandalous painting called "The Last Days of Rada (Ukrainian Parliament)". In 2015, after three years of fighting, together with the Andriyivsky-Peyzazhna NGO Initiative, she made the first compulsory demolition of the extra floors in the Desyatynny Alley in Kyiv.
Coordinator Social Dialogue for the «Youth on Andriyivsky» project in Kyiv (Ukraine)