Speakers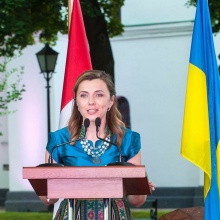 Nataliya Mykolska
Deputy Minister of the Economic Development and Trade – National Trade Representative (Ukraine)
In 2015, Nataliya was appointed Deputy Minister and Trade Representative at the Ministry of Economic Development and Trade of Ukraine. In this capacity, she is responsible for the promotion of exports of goods and services and promotion and assistance of the domestic producers for entering onto new markets. In addition, her duties include representation of Ukraine to the World Trade Organization.
Nataliya has 14 years of experience as a legal consultant in all areas of international trade, including WTO and free trade agreements, trade finance, cross-border trade deals and contracts, agency and distribution, franchise and other areas.
Nataliya Mykolska worked with the best law firms in Ukraine and government agencies. Her professional experience also includes consulting in the area of potential impact on the business of "new" free trade agreements, development of positioning and representing clients in dealings with governments, etc.
For several years, Nataliya Mykolska participated in the Doing Business project and provided advice on customs law and regulatory matters at the World Bank and the International Finance Corporation.
Nataliya Mykolska was named #1 lawyer on international trade by the Ukrainian rank of law firms. Besides, her services are recommend by the International Who's Who of Business Lawyers 2014 and the International Who's Who of Trade and Customs Lawyers 2014.
Deputy Minister of the Economic Development and Trade – National Trade Representative (Ukraine)