Speakers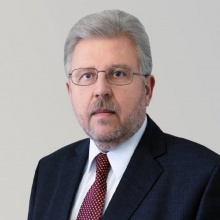 Volodymyr Khandogiy
President of the Ukrainian Foreign Policy Association, previously acting Minister of Foreign Affairs of Ukraine and Deputy Foreign Minister, Ambassador Extraordinary and Plenipotentiary (Ukraine)
Volodymyr Khandogiy is the President of the NGO "Ukrainian Foreign Policy Association" - a think-tank that unites leading Ukrainian and foreign diplomats and experts in the field of foreign policy, international relations, law, economics, and information.
He has a considerable experience in the field of international relations: for almost forty years, he worked for the Ministry of Foreign Affairs of Ukraine and spent a major part of his diplomatic career working in the missions of the Ukrainian SSR, the Soviet Union, and Ukraine to the UN. He also held key positions in the Ukrainian government from 2006 to 2010 and served as Deputy and First Deputy Foreign Minister of Ukraine. From March to October 2009 he was appointed Acting Minister for Foreign Affairs of Ukraine.
Mr. Khandogiy has the rank of Ambassador Extraordinary and Plenipotentiary. He headed the diplomatic missions of Ukraine into Canada, the UK, the Netherlands, the Kingdom of Belgium, the Grand Duchy of Luxembourg, NATO, and various international organizations.
President of the Ukrainian Foreign Policy Association, previously acting Minister of Foreign Affairs of Ukraine and Deputy Foreign Minister, Ambassador Extraordinary and Plenipotentiary (Ukraine)