Speakers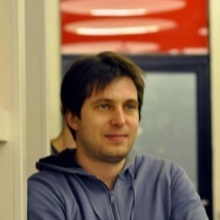 Maxim Yakover
Founder of Chasopys, co-founder of DreamKyiv, co-owner of "Interesting Kyiv" (Ukraine)
- Founder of Chasopys, co-founder of DreamKyiv, co-owner of Interesting Kyiv, Board member: VDNH
- Influencer and developer of a favourable communication environment for innovations
- Provoker of a social-consciousness change via free interactive access to new ideas' hubs
During the 3rd year of its development, Chasopys became the #1 co-working place for open communications, self-development, and innovations: the proper environment for people with initiatives. Hundreds of people visit the hub to grasp startup culture or exchange ideas. Results: creating new businesses and jobs that stimulate the local economy. Chasopys also hosted Max's project School of Ukrainian Entrepreneurship: a 2-month course targeted at startup beginners.
The DreamKyiv project is a popular communication platform. Apart from its high value as an interactive spot, it turned out really practical during the Kyiv municipal elections, aggregating the profiles of all candidates and helping people to make decisions.
In 2015, Max joined a trio of young managers with the ambition to reinvent the Soviet-style VDNH exhibition centre and transform it into a cultural innovation hub. In his own words: "This archaic spot will undergo dramatic changes that Ukraine will benefit from."
- See more at: http://c4fdavosaward.com/Nominations/year/2016/7/Idea-of-the-Future#sthash.qrroNnmu.dpuf
Founder of Chasopys, co-founder of DreamKyiv, co-owner of "Interesting Kyiv" (Ukraine)