Speakers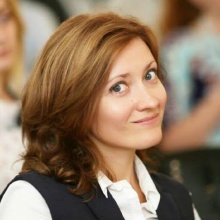 Zhanna Panchenko
Deputy Director of Communication Center, Taras Shevchenko National University of Kyiv (Ukraine)
Deputy Director of Communication Center of Taras Shevchenko National University of Kyiv, associate professor, PhD in political science, organizational communications and reputation management trainer and consultant (Ukraine). Zhanna Panchenko is associate professor of the Chair of International Media Communications and Communication Technologies, Institute of International Relations (IIR) of Taras Shevchenko National University of Kyiv. As a researcher, she is primarily interested in organizational communications, digital communications, branding, marketing communications, and reputation management. She is also interested in strategic communications, government communications, country branding, and reputation.
Currently, she is working on communication model for Taras Shevchenko National University of Kyiv in order to provide effective corporate communications with key stakeholders. In addition to her research and practical work, she is also a communication consultant and chief-editor of the official web site and social media in IIR.
In 2015-2016, she took part in European Commission project of staff academic mobility (HUMERIA) in Tallinn University, Baltic Film, Media, Arts and Communication School (Estonia), she was a guest lecturer in Maria Curie-Skłodowska University in Lublin (Poland) with a course on Strategic Communication in Conditions of Hybrid War: Business and Government Experience of Ukraine.
From 2010 to 2012, she was associate professor at the National Academy of Public Administration under the President of Ukraine, working on researching information policy and government communication in Ukraine.
Deputy Director of Communication Center, Taras Shevchenko National University of Kyiv (Ukraine)