Speakers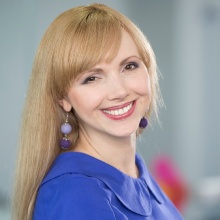 Iryna Novikova (new)
CEO of AGAMA communications (Ukraine)
Iryna is highly skilled professional with more than 15 years of experience in marketing, communications and innovative development.
Iryna graduated with a PhD in Innovations Economics. In June 2013, she successfully completed the Executive Program of Singularity University, USA.
Since 2010, she is a board member of the IAMI (International Association of Marketing Initiatives) and since 2014 – a board member of the All-Ukrainian Advertising Coalition.
Her professional career began in 1998 from the position of marketing manager of the Private Initiative Fund. Since 2000, she dealt with constant supervision and management of the integrated marketing services at Talan Communications that  maintained its leading position through the local market as the most effective and most creative agency for nearly 10 years (part of AGAMA communications). The agency won over 100 branch contests and got into the short-list finals at Cannes Lions and Effie Awards.
Later, in 2013, she became a CEO of a newly formed structure AGAMA communications, which unites 14 agencies of the Atlantic Group holding and integrates creativity, technology and entrepreneurship all across its member-agencies. AGAMA communications acts as an official Organizer and Digital Partner of the WCFDavos Kyiv. The company initiated and successfully held the Digital Panel of the event that brought together well-known foreign experts in digital communications.
CEO of AGAMA communications (Ukraine)