Speakers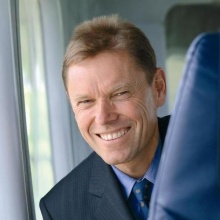 Thomas Brandt
CEO of ZLT Zeppelin Luftschifftechnik GmbH & Co. KG
Thomas Brandt is the CEO of ZLT Zeppelin Luftschifftechnik GmbH & Co KG and the Deutsche Zeppelin-Reederei GmbH and member of the board of the Luftschiffbau Zeppelin GmbH, all of which are located in Friedrichshafen.
In all these functions he represents the unique Airship operation in Friedrichshafen which, since 2001, has been offering regular passenger flights worldwide.
Furthermore, due to its remarkable flight characteristics, the Zeppelin NT 07 has also proven its capabilities as a special mission platform: the Zeppelin NT has become an efficient and effective research and science hub that allows fields of application that neither an aircraft nor a helicopter could accomplish.
In the last 15 years ZLT and DZR realised successfully many special missions such as: airspace surveillance and monitoring, airborne mineralogical prospecting, atmospheric and climate research campaigns, radiation mapping and many other scientific applications.
Thomas Brandt has over 25 years of airspace experience. He acted as member of the board of Fairchild Dornier GmbH and member of the upper executive level at Daimler Benz Aerospace.
CEO of ZLT Zeppelin Luftschifftechnik GmbH & Co. KG