Speakers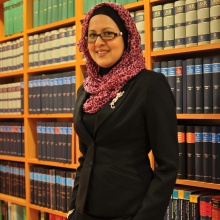 YM Raja Riza Shazmin Raja Badrul Shah
Honorary Secretary of MERCY (Malaysia)
Raja Riza Shazmin Raja Badrul Shah is the Managing Partner of her own legal practice, Messrs Raja Riza & Associates established in 2004. Her firm, specializes in Defamation and society law.  She was admitted as an Advocate and Solicitor of the High Court of Malaya in January 2000. She received her Honours Degree in Law (LLB.Hons) from University of Glamorgan, Wales, United Kingdom in 1997 and earned her Certificate in Legal Practice (CLP) from Brickfields College in 1998. She obtained her Diploma in Syarie Legal Practice (DSLP) from the International Islamic University Malaysia in 2002
She first joined MERCY Malaysia in 2004 as a volunteer and was involved in missions to Aceh and Nias in 2005. She was elected to her current position in 2006. In MERCY Malaysia, She oversees the organisation's legal and compliance matters, as well as overseeing and advising the  Monitoring and Evaluation Department on policy matters. She also oversees the Communications and Fundraising Department. She has been the Advisor for  MERCY Malaysia's Annual Fundraising Dinner for the past six years and the Advisor for the MERCY Malaysia Humanitarian Run for the past 2 years.
Raja Riza has been involved in local missions to Belum in Perak, Sarawak, Johor and Kelantan as well as international missions to Aceh, Yogyakarta, Nias, Maldives, Myanmar and the most recent one the Philippines.
In 2014 she was appointed as a Trustee of MERCY Malaysia UK (MMUK). She was tasked in establishing the framework and legalities of the MMUK's setup. She is presently the Honorary Secretary of MERCY Malaysia at the Executive Council level.
Honorary Secretary of MERCY (Malaysia)