Speakers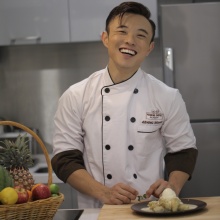 Brian Chen
Partner, Young Chef's Academy (Malaysia)
Formerly a chartered accountant for an Oil & Gas corporate giant,  Brian started cooking in the kitchen initially to take care of his late father's special dietary needs. He soon got hooked by the cooking buzz, taking a plunge and battling his way to the top in the first season of Masterchef Malaysia.
This followed on to being called to host regular food-related TV shows on RTM including "Chef Adik", "Menu Kita"; his current role as resident host in SuriaFM where "food & health" is often discussed, his launch of three cookbooks in collaboration with MPH & Karangkraf amongst others.
Further discovering he had a profound passion in early child development, Brian decided to unite this newfound love with his love for cooking. Currently, as one of the owners of YCA, an international franchise, Brian is always is action in the kitchen with his "little" fans who affectionately refer to him as "Abang Brian". YCA does not only have cooking classes for children, but is regularly hosting birthday parties where kids cook together and hold interactive school field trips for kindergartens, Montessori, international and local schools, which has given Abang Brian the opportunity to meet and inspire thousands of children.
He is now synonymous with cooking and "child development through the medium of food and cooking" and has often been invited to join forces in hosting or attending various cooking-with-kids programs. Companies such as FAMA, Leggos, Kraft, Glaxo-Smith-Kline, Great Eastern Insurance, Petronas and Digi are those who have helped Abang Brian in realizing thousands of kids cooking dreams.
Abang Brian has never missed out on an opportunity to share his recipes with his fans and is also a consistent contributor to magazines like Ibu dan Anak, Nona, Saji, Aroma, Rasa, Mingguan Wanita and Yumyum
Partner, Young Chef's Academy (Malaysia)