Speakers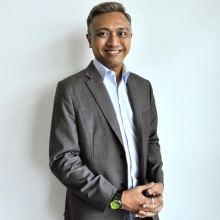 Zain Amri Ayeob
Director of BULB Communique, Malaysia
Positive and constructive, Zain is a friend and mentor to many. His years of experience in various industries have naturally made him one of the most insightful and resourceful people in the communications line.
He was previously the Deputy Director of Communications at Iclif Leadership Governance Centre (Bank Negara); then the Strategic Planning Director and Business Unit Head at Grey Group Malaysia. His automotive communications experience includes Perodua (2007), and Proton (2013).
Zain also has a background in training thousands of communications professionals across South East Asia as the co-designer and lead trainer of the SHINE training series (under 4A's Malaysia).
With his special talents in music and sports, he has his own solo album titled "Just Zain", released in 2011, and is now the head of inline hockey development under the Malaysian Association of Roller Sports (MARS).
Zain is currently serving as the Strategic Planning Director of Havas Worldwide Malaysia.
Director of BULB Communique, Malaysia