Speakers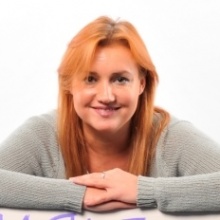 Yvetta Delikatna
Coordinator of national campaigns at the Crisis Media Center (Ukraine)
Yvetta Delikatna is a well-known Ukrainian expert in business communication. She has taken an active part in the work of the Ukrainian Crisis Media Center and several national communication programs.
Yvetta has around 20 years of work experience in Atlantic Group, including the development of Talan Group, the creation of the first Corporate University and the Corporate Incubator, etc.
She holds a Ph.D in Economics, is the founder of several industry associations (MAMI and UAPR) and acts as a Board Member at the All-Ukrainian Advertising Coalition.
She is a «Trace in advertising» award nominee and the winner of "Best Ukrainian marketing-coach" (2009).
Yvetta is also Ambassador of the Singularity University (USA) in Ukraine.
Coordinator of national campaigns at the Crisis Media Center (Ukraine)