Speakers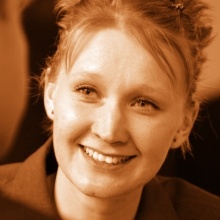 Elena Brandt
Head of Public Relations, Moscow Institute of Physics and Technology
In charge of local and international communication for MIPT - Russia's leading research university in the field of theoretical and applied physics, maths, IT, life sciences and aerospace. MIPT is most known for its alumni Geym and Novoselov who got a Nobel Prize in 2010 for having discovered graphene. Today the university's strategy is promoting its research globally and competing for the title of a leading science center in STEM disciplines.
Elena is one of proponents of developing science communications in Russia. In 2014, while running public education projects for SPN Communications, her team together with Russian Venture Company started "Communication Lab", an unconventional project aiming at uniting Russian science communication professionals into an integrated nationwide community - there had been almost no discourse on science communication as a job in the country before, thus the mission of the project was to help everyone who connects scientists to media on a daily basis to identify professionally, learn from each other and get inspired by each other's best practices. In 2015 the project was awarded SABRE and several Gold Quill awards as the best campaign in the sphere or education and research. The online tool "Open Science" launched as a part of the project has become the only local information hub for science news from the largest Russian research centres, provided directly for the subscribed media.
Elena is a member of WCF Davos Organizing committee since the very beginning of the forum back in 2010 and a co-author of the business simulation games "Dura Lex" and "The Three Whales" designed specially for the program of the Davos event.
Head of Public Relations, Moscow Institute of Physics and Technology