Speakers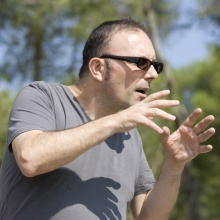 Montecarlo
CCO, Transmedia Architect & Filmmaker at CargoCult Entertainment, Ltd.
MONTECARLO is an Independent consultant specialized on Organizational Storytelling and Transmedia Storytelling.
He has more than twenty five years of experience as a professional on all kind of communication media: cinema and TV, animation, editorial, graphic novel, video-games and exhibitions. He has also worked on corporate, fiction and documentary as content creator, director, screenwriter, script-doctor, storyboard artist and artist.
The knowledge of different languages, platforms and formats, in combination with his concern about narrative structures, has facilitated him to understand Storytelling as a complex system of sense-making from the emotional side of human beings, which he applies to brand communication projects.
The same concerns brought his attention towards transmedia, and he has become an international renowned member of this community.
In 2007 he co-founded the first company in the Spanish-speaking world exclusively dedicated to Organisational Storytelling and Transmedia.
Since 2015 he is part of a new company, CargoCult Ltd., where he acts as CCO, Transmedia Architect and Film-maker. The aim of the company is to generate international transversal projects  that create immersive experiences connecting communication, culture, tourism and entertainment.
He is a founding member of StoryCodeBCN, Spanish chapter of StoryCode, a worldwide non-profit organization dedicated to the disclosure and investigation of transmedia narratives. They also promote Transmedia Week, a global, collaborative event.
He is also the founding member of A.D.A. (Association for Dynamization of Audiovisual), an organization focused on the crosswise creation promotion and internationalization of cultural industry products and franchises.
Montecarlo acts as international expert adviser of AVA (Audiovisual, Video Games and Animation), a Colombian association from Medellín-Antioquia.
He is the author of several books (fiction and essay) and a regular contributor of some specialized online publications, where he writes about storytelling, brand content, film-making and innovation.
He combines these works with lectures, master classes and workshops at universities, conventions and "in company".
CCO, Transmedia Architect & Filmmaker at CargoCult Entertainment, Ltd.