Speakers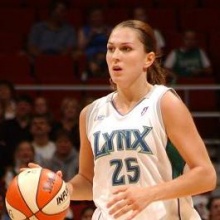 Svetlana Abrosimova
Top Professional Russian basketball player
Svetlana Abrosimova is a Russian basketball player who has played in college, the Olympics, and in professional leagues. She most recently played for the Seattle Storm in the WNBA. She is usually called by her nickname, "Svet" or "Sveta".
Abrosimova was born in Leningrad, Russian SFSR, Soviet Union (today St. Petersburg, Russia). Her father Oleg works as a welder in a shipyard and her older sister, Tatiana, was a professional ballroom dancer.
While attending Petrogradskoi N86 high school, Abrosimova was trained for Russia's Olympic team. She was granted the title MVP of the 1996 European Basketball Championship (Eurobasket), averaging 18 points, six rebounds and three assists per game. She was also a member of all-star teams that won the 1995 and 1996 European Championship.
Abrosimova was a member of the Russian national basketball team that participated in the 2000 Summer Olympics in Sydney, Australia and won a silver medal in the 1998 Basketball World Championship.
Top Professional Russian basketball player