Speakers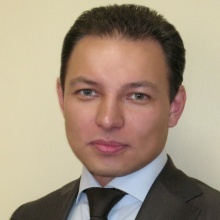 Maxim Gashkov
World Communication Forum Development Director
Maxim Gashkov joined the Forum team at the European session in Prague in 2013. His previous position was Vice Chairman for International Cooperation at the Russian Management Community – one of the leading Russian NGOs networking more than 65.000 members – business owners, top managers and high officials graduated from the Russian President's Management Training Program. Maxim grew in this business association from the Head of International Committee position at the regional level to the senior position at the national level.
His spheres of competence are GR, PR, CSR, event management, business strategy & development, place marketing and marketing communications.
Maxim strives for international cooperation development – he worked for Russia's bid for EXPO 2020 having organized media tours in four cities hosted the World exhibitions, he supported France-Russia and Italy-Russia crossed year programs having realized more than 20 cultural events, and two UNESCO World Congresses in the Urals, he also assisted the Honorary Consul of Italy in the Urals (Russia).
Maxim has also a sound business development experience having realized global activities of a German manufacturer of laser equipment and the Titanium Valley Special Economic Zone (Russia) and launched an in-coming tourism project in the Urals.
At WCFDavos 2014 Maxim moderates the discussion on Communication, Universities and Education as he has a solid academic background – he launched and managed an innovative language learning and research centre - the Romance Linguistics Department at the Ural Federal University and was a member of the team of the Foresight Fleet project in 2012, 2013 to forecast trends and future of education.
World Communication Forum Development Director